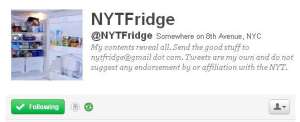 Another day, another fake media twitter.
While CondeElevator Twitter copycats scramble to make Hearst elevators and Goldman Sachs elevators accounts take off, someone at The New York Times had a slightly more original take–a twitter account dedicated to the staff refrigerator. Its first tweet was last night.
"My contents reveal all. Send the good stuff to nytfridge@gmail dot com. Tweets are my own and do not suggest any endorsement by or affiliation with the NYT," says the bio.
There's no reason to believe the tweeter actually works for The New York Times, so far they've just riffed on an article in the paper and a David Carr tweet and trolled for a "Follow Friday" endorsement
Can we just skip all the speculation and witch hunting and inaccurate "outing" and get back to work now?