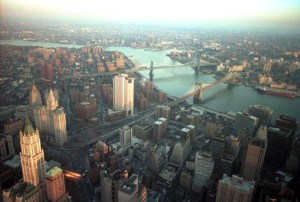 Transit wonks are hoping Governor Andrew Cuomo might still be their secret savior, and it's starting to look like he might be. Not only has the governor selected a crack team to replace outgoing M.T.A. chief Jay Walder, but he is even said to be considering the impossible—congestion pricing.
Governor Cuomo dodged the congestion pricing question on the campaign trail, and he has remained mum even as éminences gris have continued to call for bridge tolls. Now, while mulling whether or not to veto new Port Authority tolls, the Cuomo administration could actually use the PA tolls as cover to finally implement them on East River bridges. According to City Hall News' Adam Lisberg, Governor Cuomo could embrace certain toll increases if others are cut.
People close to the discussions believe Gov. Andrew Cuomo will accede to a $2 toll hike despite his public protests. And once Cuomo establishes that a toll increase does not fall under his "no new taxes" pledge, these people believe that would lay the groundwork for a coordinated toll plan that would raise the price to enter crowded Manhattan but reduce it elsewhere.

"The bridge tolls will become the way to solve the MTA problem," said one person involved in the long-term effort. "In this situation, it's ludicrous to leave some of the bridges free."
The key difference between this latest proposal and the one that died two years ago is that it cleverly reduces tolls on outer-borough connections, such as the Triborough, Throgg's Neck and Whitestone bridges. This could please many of the local pols who quashed the plan before and underscore the goal of bridge tolling as a means to reduce congestion in the Central Business District and not simply a revenue raiser.
The idea, which would also charge vehicles traveling below 60th Street as before, was conceived by former transportation commissioner "Gridlock" Sam Schwartz, who believes it could raise $1.9 billion for transit funding.
Maybe Jay Walder should not have left so soon.