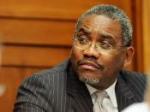 Queens Congressman Gregory Meeks told The Politicker this morning that he was a reluctant vote to raise the debt ceiling, but that ultimately enough concessions were made by House Republicans to convince him to sign on.
"In order to get this done right, we very definitely had to have some revenue," he said. "But if we are going to have a compromise, and there will be no revenue, then entitlements should not be cut, and as of right now entitlements have not been cut."
Meeks was the only member of the New York City congressional delegation who voted in favor of raising the debt ceiling, and one of the few members of the Congressional Black Caucus who did so.
Meeks also said that he thought the so-called "super-committee" that is tasked with closing the deficit further would put House Democrats on equal footing with the majority.
"Being a Democrat in the House, I am a vast minority right now. If I thought about things going through the regular order in the House, knowing that also on the Senate side they need to get 60 votes, I think it would be difficult in the regular order for my voice to really be heard," he said.  But with the special commission, it's Even Steven. So there is not necessarily a minority voice on that commission…If I was in the majority I would have felt just the opposite."
Meeks added that he could have "played politics" and voted against the measure, since it was clear that it was going to pass, but that the chance of the country defaulting was too great.  And he said it was too early to render judgment on the deal.
"When you look down the road a year from now, maybe you will be able to make a better analysis in a better way. You never know what a deal looks like right when you do it."