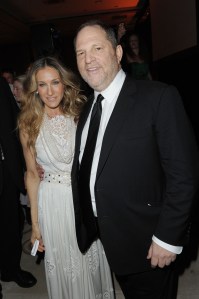 On the evening of April 30, 2010, the fashion elite all trundled downtown en masse for the Tribeca Film Festival premiere of Ultrasuede: In Search of Halston, a new documentary that delves into the extraordinary life of the jet-set designer and the elegant tunics and billowing dresses for which he became famous. The after-party, sponsored by the Cinema Society and Vanity Fair, was held at the Trump Soho and drew the usual cadre of demi-celebs and socialites, along with a few of the near-relics, including Anne Dexter Jones, Pat Cleveland and Nick Rhodes, who'd somehow emerged in one piece from the "decadent era of sex, drugs and disco," as director Whitney Sudler Smith put it, during which Halston reigned.
Also mingling among white orchids in the dimly lit room was a small cabal of former Halston employees, including Bonnie Takhar, Halston's former CEO, who'd been fired several months earlier, resplendent in a white fur coat, a white dress and four-inch heels; and celebrity stylist Rachel Zoe, a former board member, dressed in a vintage Halston ultrasuede coat.
Noticeably absent from the shindig were Halston's creative director, Sarah Jessica Parker; Harvey Weinstein's wife, Georgina Chapman; and Naeem Khan, Roy Halston's former assistant and now a designer in his own right—all of whom had cheerfully appeared on the red carpet before the screening.
As it happens, there was trouble brewing in the house of the halter pantsuit. But only Ms. Zoe, who had unceremoniously quit her board position just months after signing on in 2007, offered a peek at the animosity that was building among the company's principals, sniping to a reporter from style.com, "I only own vintage Halston, because I want what he touched."
Behind the scenes, things were getting rough for "the Harvey crowd," as they had come to be known. They had arrived to great fanfare in 2007 with a plan to rejuvenate the legendary fashion company, which had, in its heyday, swathed everyone from Pat Buckley and Jaqueline Kennedy Onassis to Bianca Jagger, Lauren Hutton and Elizabeth Taylor, in flowy, one-shoulder jersey gowns, pantsuits and ultrasuede trenches.
Indeed, just two months after the premiere, Ms. Parker and Mr. Weinstein would be gone, and with them designer Marios Schwab and board member Tamara Mellon, who had engineered the deal with Mr. Weinstein in the first place.
"We have been fortunate to have worked with an extraordinary group of individuals, including Bonnie Takhar, Sarah Jessica Parker and Harvey Weinstein, as part of the Halston management team and board of directors," Jeffrey B. Hecktman, chairman and CEO of Hilco Trading, LLC, said in a statement to The Observer. "Under their leadership and tireless effort, the brand has grown, achieving record sales in over 700 doors. We thank them and wish them nothing but success in the future."
Fittingly, the crack-up first came to light in a throwaway line in the August issue of Vogue, which threw Seventh Avenue into a frenzy.
Buried among the usual fripperies—what cover girl Sarah Jessica Parker wears, how she raises her three kids and how she feels about latest film, I Don't Know How She Does It—was a telling nugget: "When Sex and the City, to her own surprise, made her a fashion star, she launched her own design label and perfumes, as well as signing on to run the Halston Heritage label, a relationship that recently came to an end."
Although none of the former Halston principals would speak about their departure, citing nondisclosure agreements, a friend of Ms. Parker's insisted that the actress had nothing to be ashamed of. "Halston was not a healthy company when Sarah Jessica came in," the source told The Observer. "It was a revolving door for staff. But she worked very hard and sales were up 40 percent by the time she left. I don't know how [the company] managed their books or what they leveraged, but now they say they need to raise cash and so are turning to licensing to do so."
In 2007, when Mr. Weinstein stepped in to purchase a stake in Halston from Jim Ammeen, the founder of Neema Clothing, the indie-film mogul was faltering. On the film front, he was struggling to reclaim his place in the business, having sold Miramax to Disney only to be ousted—in a loss of control that oddly mirrored Roy Halston's own business missteps—after quibbling with the Mouse over distribution of Fahrenheit 911. But Mr. Weinstein's forays onto Seventh Avenue, which included backing Ms. Chapman's Marchesa line and producing the wildly popular reality series Project Runway, had been more successful.
However, Mr. Weinstein's stake in Halston amounted to just 15 percent, sources say. The rest was controlled by Hilco Consumer Capital, a venture capital firm that holds stakes in a number of more downmarket lines, such as Ellen Tracy, Caribbean Joe and Frederick's of Hollywood, and also licenses the rights to the likeness of Bob Marley.
"I got jealous of Georgina and wanted my own fashion line," Mr. Weinstein joked when buttonholed by vogue.com during a party at the Cannes Film Festival. Ms. Zoe, a stylist and reality TV star best known for creating the waif-y boho chic look favored by the Olsen twins, was added to the board after the sale was completed. And to add a touch of rag-trade business acumen, Halston hired Bonnie Takhar, chief commercial officer of Ms. Mellon's Jimmy Choo Ltd., as its chief executive officer, and brought on Marco Zanini, the Versace-schooled couturier, as lead designer. It seemed like a winning combination, and expectations were high.
But behind the pretty facade, signs of strain soon began to emerge.
Within a year, Ms. Zoe—who surprised colleagues by neglecting to turn up for the line's first runway show—exited the board. (Her representative didn't return calls seeking comment.) After presenting the Fall 2008 Halston collection to mixed reviews, Mr. Zanini was also gone, replaced by London ingénue Marios Schwab.
In early 2010, in a move to boost the brand's visibility, Sarah Jessica Parker was brought on as a creative director and president of a less expensive, more commercially friendly new line called Halston Heritage. The four-year deal was worth a whopping $13, million in addition to giving Ms. Parker an equity stake in the company. The move was hailed by some industry observers, among them renowned stylist Mary Alice Stephenson, who told Today, "I know that she will do an incredible job and finally get the brand back to being a Halston that is respectful of Mr. Halston and his legacy but also move it forward to what women today want to wear." Others, however, saw the hook-up in more cynical terms, as yet another example of a narcissistic celebrity thinking a flair for dressing could translate into a lucrative sideline as a fashion designer.