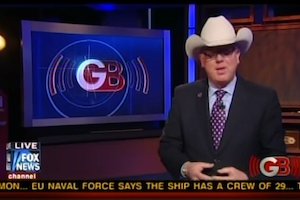 Now that Glenn Beck is no longer employed by Fox News, he's free to vacate New York, bastion of liberal values and target of God's punitive weather systems.
In April, Glenn Beck first announced would he be leaving New York, though it was unclear where he was headed. After an international speaking tour, the Post reports he's putting down roots in Bosque County, Texas (population 17,204). Mr. Beck will operate GBTV, via Mercury Radio Arts, out of Dallas.
It's safe to say that Mr. Beck never felt at ease in the New York area. He leaves behind a $3.6 million mansion in New Canaan, CT, with a private lake and a 6-foot fence (2 feet taller than local ordinances allowed) and was rarely without his personal security detail or his sidearm.
In 2009, Texas had more deaths by firearm than New York and Connecticut combined.