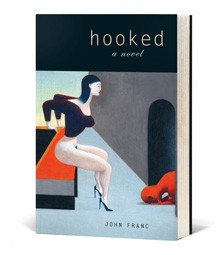 Tin House is publishing a novel about sex called Hooked. It is written under the pseudonym John Franc. The "fast-paced noir" follows the misadventures of a group of middle-aged men in an unnamed city as they travel around from brothel to brothel acting out various indiscretions. Our press release lists "the sex-scandals of Weiner, Schwarzenegger, Strauss-Kahn, and the debates in The New York Times Magazine and elsewhere about monogamy" as reasons for the book being "positively prescient."
The thing that's so great about this, though, is leading up to publication, Tin House is asking people to anonymously share stories and secrets about their sex life on a tumblr page they've set up for the book:
Have you paid for sex? Cheated on your partner? Been cheated on? How do you feel about monogamy? Send us your anonymous confessions, stories, and thoughts.
There is then a box with a place for a pseudonym, "that secondary e-mail you use" and a space to let loose some of the skeletons in your closet. Here are a few gems:
Hookers

I have been married for ten years.  In the last year I have had sex with over a dozen hookers. One is about 19, and I am 40.  Do I feel bad? Sex is a phone call away, and she never says no.  I have had three "doubles" with her friends.  My only problem is that this is an addiction and distracts me from my work.  I may stop, one day, but not now.

Skype Blows

My lover lived across the world in Asia. He paid a street whore to blow him while I watched on Skype.

Not-Quite-A-Doctor

My boyfriend of 5 years and I broke up because the long distance did not seem reconcilable. I was heartbroken, but at the same time, had the time of my life going out, making friends, and yes, sleeping with strangers.

After months of back and forth phone calls with the ex we decided to give it another go. We were officially: back together.

But I ran into one of my flings from the breakup a week later at the bar… and I should note that it was the hottest sex of my life.

The night dragged on, our groups of friends merged, and I realized that we were waiting for each other. We walked to his house and I slept with him.

I don't feel that badly.
Hey, monogamy's not easy. Unless you're this guy.