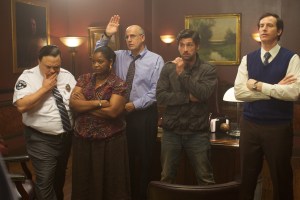 Every once in a while a movie comes along that is so bad it makes you feel terrible for everyone involved. Flypaper, a new indie that's little more than a haphazard assemblage of clichés, clunky camera tricks and cringe-worthy dialogue, is just such a film. Directed by Rob Minkoff (best known for Disney's The Lion King and the Stuart Little movies, but out of his depth in live-action adult fare) and written, presumably on a bender, by The Hangover scribes Jon Lucas and Scott Moore, Flypaper tries extremely hard to be a zany bank heist farce-slash-mystery, a kind of whimsical cross between Ocean's Eleven and Clue. And while it may succeed in theory, it fails—spectacularly—in practice.
The knee-slapping premise is that two sets of bank robbers arrive at the same bank at the same time, only to discover that they are pawns in the game of yet another criminal. The more professional trio is made up of Mekhi Phifer, John Ventimiglia and Matt Ryan, while Tim Blake Nelson and Pruitt Taylor Vince are Peanut Butter and Jelly, a pair of redneck morons with Sling Blade-level intellects and goofy, deep-South accents that serve only to make their dialogue sound more idiotic than it already is (sample line: "When an ugly chick dies, it's like, they probably sucked anyways. But when a hot chick dies, it's tragic"). The hostages offer even more lazy character stereotypes: Ashley Judd is Kaitlin, a perky, mild-mannered bank teller; Octavia Spencer is Madge, the more marginal sassy black teller; Jeffrey Tambor is the bumbling bank manager; and Adrian Martinez is the creepy Latino security guard. Oh, and Patrick Dempsey stars as a mysterious customer named Tripp who suffers from obsessive compulsive disorder, turning in a performance so manic it's a wonder he didn't have an aneurysm midshoot.
A considerable amount of disbelief-suspension is required to endure the ridiculous plot. After a brief shoot-out that leaves a man dead, Tripp convinces the two groups of bad guys not to kill each other, but to rob the bank at the same time, since Peanut Butter and Jelly just want to hit the A.T.M.'s while the other three are after the vault money. The hostages are taken to an office upstairs, after which they are promptly forgotten about, since before long they are roaming the bank unsupervised like overgrown versions of The Breakfast Club kids. Tripp in particular cannot seem to keep himself from meddling in all aspects of the robberies-in-progress, but the criminals are too dumb to just shoot him and put us all out of our misery. Ms. Judd, despite being an above-the-line star, has little to do but sit around looking bored, except for a flimsy subplot involving—what else?—her character's flirtation with Tripp, a totally predictable development that feels like an afterthought tacked onto an already overstuffed narrative.
By the time Mr. Dempsey, drenched and sputtering like Rain Man after a few hours in a sweat lodge, discovers that the heists have been set up by a criminal mastermind named Marcellus Drum who wants everyone else dead and who numbers among the survivors in the bank ("Don't you see? The money's like flypaper!" Tripp exclaims, seemingly gleeful that he has uncovered the mystery of the title), it's hard to work up any enthusiasm over whodunit. It doesn't help that in lieu of real storytelling, Mr. Minkoff relies on a hodge-podge of flashbacks in which various characters theorize as to who the killer might be, and it doesn't matter anyway, since none of the characters has been developed enough to make a convincing puppet master. The climactic reveal is suitably disappointing, and the final scene in which (spoiler alert?) Tripp and Kaitlin ride off into the sunset is a big, hackneyed yawn—even with a weak twist ending thrown in for good measure.
You know there's something wrong with a comedy when you'd rather see the main characters killed off than live happily ever after.
ulamarche@observer.com
FLYPAPER
Running time 87 minutes
Written by Jon Lucas and Scott Moore
Directed by Rob Minkoff
Starring Patrick Dempsey, Ashley Judd, Tim Blake Nelson, Jeffrey Tambor
0/4