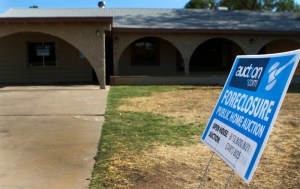 For almost five years now, the housing crisis has been a drag on the U.S. economy, the U.S. psyche, the U.S. spirit. It turns out it is also dragging down Americans' health.
A new study by two economists finds a relationship between the number of foreclosures in a community and the number of hospital visits, according to The Wall Street Journal. Princeton's Janet Currie and Erdal Tekin of Georgia State University studied residents in Arizona, California, Florida and New Jersey, and they discovered "an increase of 100 foreclosures corresponded to a 7.2% rise in emergency room visits and hospitalizations for hypertension, and an 8.1% increase for diabetes, among people aged 20 to 49." There has also been a rise in suicides.
The Journal notes that general financial stress could be as much to blame as the housing bubble, but since the two are so intimately intertwined, the case either way seems strong. Furthermore, because there was not a corresponding rise in cancer or elective surgeries at hospitals, it appears that the hospitalizations were more stress related than anything.
There is evidence of these problems outside the states studied, too. The Journal found Patricia Graci, a Staten Island woman whose husband lost his job as a painter in 2008, which led to two years of dwindling savings spent on mortgage payments until nothing was left. "Everything was going downhill. My savings were going down to nothing," Ms. Graci told the daily. "When I realized the money wasn't there anymore, I started getting very anxious and depressed."
Then there is the unfortunate case of Norman Adelman.
In 2008, Norman Adelman of Freehold, N.J., called his lender to ask for a forbearance of three or four months, saying he was about to undergo knee-replacement surgery. The lender complied and Mr. Adelman, who runs a home-energy business, says he began scaling back his work. He underwent needed tests and doctor visits.

After two months of not paying his mortgage, he successfully applied for a loan modification, taking his monthly payment from $2,700 to $1,900. But then the loan was sold—and a new servicer didn't recognize the terms of the arrangement, he says.

Mr. Adelman is fighting the new lender but says he has been in and out of the hospital for the last two years. He never had his knees replaced and is now on antidepressants and antianxiety medication.

"He's deteriorated. He's had sleepless nights," says his wife, Shulamis. "You always have this fear of being thrown out. He's just gotten worse and worse from not sleeping."
So which do we need more—chicken soup or loan modifications?
mchaban@observer.com