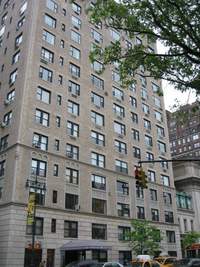 Recent notable deals in Manhattan real estate:
Gallery owner Jill Gerstenblatt and husband Darren have purchased a new apartment at 201 East 25th Street in Kips Bay. Though the 1,550-square-foot roost was originally listed by Douglas Elliman for $1.5 million last year, according to StreetEasy, the couple paid just $1.27 million. Brokers Matthew Gulker and Vanessa Kitchen note that the apartment, which was combined from two smaller units, is "a Mint Home featuring a Double Wide Living Room plus a Gracious Dining Room with Sunny South Facing Open City Views that Go for Miles…" We're slightly confused by the excessive capitalization in the listing, but regardless, congrats to the new homeowners.
Is Brooklyn that bad? Physical therapist Alex Klurfeld and wife Diana are ditching their Brooklyn digs for Trump Tower. According to the deed, the couple currently live a Brighton Beach apartment complex. The Klurfelds purchased two units at 721 Fifth Avenue, the epitome of Manhattan grandiosity, paying $6.35 million dollars for the 2,293 square feet of space. According to StreetEasy, the Brooklynites got a sweet deal: the place was listed by Trump back in 2009 for $7.299 million, but the price was chopped 4 percent, to $6.995 million in January.
French real estate mogul Leon Bressler and wife Sylvie have purchased an apartment at 91 Central Park West for $7.525 million. This isn't the couple's only New York property, however. City records show that in March of this year the Bresslers bought an 850-square-foot condo at 101 West 79th Street for $2.95 million. Although the most recent purchase is just 11 blocks away, it is a much more substantial property, with three bedrooms and three full bathrooms. Interestingly enough, the apartment was purchased from a Linda C. Pedicini, a teacher at Spence. Corcoran agent Brian Rice, who worked on the deal with Douglas Albert, assured us that the Bresslers were "very, very nice people. Absolutely gracious."