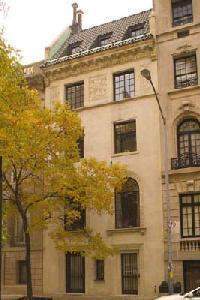 These high-profile apartments were sold this week to unnamed buyers hiding behind LLCs. If you have any tips on their true identities, be sure to email eknutsen@observer.com.
This week we have a particularly pricey puzzle on our hands. Someone has acquired an exquisite townhouse at 20 East 64th Street. The five- story, 13,000-square-foot home, was purchased by 20 East 64th Street LLC for $23 million. The previous owner, Derek M. Quinlan, didn't fare so well in the deal. City records show that Mr. Quinlan bought the home in 2005 for $26 million. Apparently feeling optimistic, he listed it in 2007, with the basic asking price of $37 million. The price has been steadily decreasing since that time, ultimately listed for $29.5 million last year.
Another townhouse mystery just two blocks away! Earlier this week, a whole host of Floridians (and one Californian) sold what appears to be a converted apartment building on 63rd between Madison and Park. The sellers are listed as Townhouse 31E63 LLC, but the names Joanne Mann, Michael De Mello, and Julian William Herbert Mann also appear as grantors. All the parties list Florida addresses, except Julian Mann, who names Los Angeles as his current home. City records show that Joanne Mann has owned the building since at least 1970. The buyer, 31E 63 St LLC, paid $8.3 million—surely much more than what Ms. Mann put down for the property 40 years ago. No word on whether the buyer will convert the property, currently split into six units, back to a one-family dwelling.
Meanwhile, in Soho, an unnamed buyer purchased a unit in the new Soho Mews for $3.26 million. Hopefully 311-WB-2 LLC has a nice art collection, because, as Corcoran agent Shelly O'Keefe notes, "This residence provides fabulous wall space with 10'2 ceilings perfect for the art connoisseur." Whoever is behind the LLC will be moving into a pristine 2,110-square-foot space with two bedrooms and three full baths.
eknutsen@observer.com