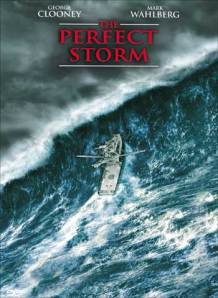 With New York officially in a state of emergency, many of you are concerned about the proper steps to take leading up to the storm.  We have compiled for you a list of the ten essential steps to prepare for Irene.
Irene Preparedness Checklist:
1) Water. Although  we can expect a biblical downpour this weekend, you never know when clean, gutter free H20 may be in short supply. We know no one actually drinks water anymore, so go to Whole Foods and buy a pallet of Vitamin Water.
2) Buy some non-perishable food. It's an ideal excuse to break that summer diet and open the jar of peanut butter you've been eying since March. Feeling crazy? Go for the Nutella and wheat thins dinner.
3) Tape those windows. Why? Well supposedly it will prevent shards of glass from flying into your home if your windows get blown out. More importantly it will make you look really serious; you'll soon be the envy of the neighborhood with those giant Xs on your panes. And no, masking tape won't cut it.
4) Listen to the radio for updates. If you own one.
5) Buy some instant Starbucks packets. Your local barrista will probably be off duty (or incapacitated) come Sunday, and nobody wants to see you without your morning fix.
6)  Copy your documents and attach them to your person. Who knows? Your roof could collapse, the storm surge could flood your ground floor studio, looters could come and take your passport. Take no chances. We recommend the waterproof document holding fanny pack.
7) Stock up on cash. Your plastic won't work if the power is out.
8 ) Buy a raincoat for your pet. And probably some extra dog food, too. If you and Fido have to make a run for it, at least he'll go in style. Who are we kidding? You probably already own one.
9) Don't buy an umbrella. It's a hurricane, people. Think gale force winds that will rip your bodega—never mind your bodega-bought umbrella—to shreds. Stay inside.
10) Get a Netflix subscription. We recommend popping some popcorn over an open flame and cozying up to The Perfect Storm.