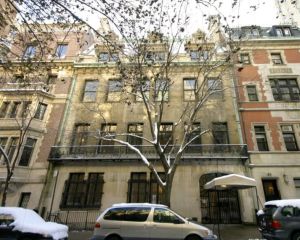 While The Observer would never attempt to divine what goes on in Larry Gagosian's head, based on discussions with real estate and art world experts, we feel safe to say that the Harkness Mansion is more than a home. It could also serve, in some capacity, as gallery, showroom, salon.
"The answer is, yes, it's been done," an attorney who specializes in zoning told The Observer. "It's a residential district, which precludes any commercial use, but there is nothing stopping him from putting a gallery in the first few floors."
The massive 20,000-square-foot mansion could not be entirely given over to art, because the Department of Buildings still requires certain amenities for a residential building to get its certificate of occupancy. In this case, that includes a kitchen and at least one bedroom. The residences could occupy a few floors, or be nothing much more than a garret in the fifth-floor attic.
There are still further restrictions on the gallery plan. There can be no separate entrances for the home and the gallery and no signage on the doors. Business hours are strictly forbidden—this is not a venue for public viewings. "But that doesn't mean you couldn't throw a party there every night if you wanted," said the attorney.
The stately house would be a nice addition to the 11-gallery Gagosian empire, his most upscale space so far. Yet Mr. Gagosian would not want to go abandoning the mothership at 980 Madison, either. The biggest restriction of all is that no commercial activity could take place in the home. Even for the notoriously behind-closed-doors Mr. Gagosian, the convenience of going around the corner to sign over art would be essential.
A Gagosian spokesperson declined to comment on the gallerist's plans for his new home.
Still, Mr. Gagosian is just about the perfect buyer for the Harkness Mansion. As The Observer reported Thursday, one of the reasons J. Christopher Flowers was having such a hard time selling it, after paying a record $53 million in fall 2006, is because the Harkness had been gutted, in preparation for a renovation that was derailed by an acrimonious divorce.
Most buyers want something that is move-in ready, but assuming Mr. Gagosian plans to turn at least some portion of the mansion into a gallery, buying a shell actually makes that job easier. Not only does he save on demolition costs, but the shrewd dealer could also negotiate down the price of the home, which had been asking more than $40 million but sold for $36.5 million.
Galleries in townhouses on quiet Upper East Side streets are nothing new. L&M Arts operates one, as does Marianne Boesky. Unlike Mr. Gagosian's new manse, both are partly zoned for commercial use. In Ms. Boesky's case, it was a doctor's office on the ground floor that was converted to a gallery in 1971, according to city records. Still, this did not keep her from staging the "dwelling" show in the spring, occupying every floor of the brownstone. Just because it's a bedroom does not mean it cannot also become a gallery space.
Perhaps the best known—if most notorious—example of a gallery inside an Upper East Side mansion was the $150,000-a-month 71st Street palace that another Larry once occupied. The disgraced Salander O'Reilly, at 22 East 71st Street, actually lay within a commercial district, making sales there legit. Well, legit from a zoning perspective.
Allan Stone lived over the shop on East 90th Street for 16 years until his death in 2006. The converted firehouse was sold this summer for $9.875 million and is reportedly being turned back into a single family home. Richard Feigen's situation is very much like that of Mr. Gagosian, in that his gallery is located on the first few floors of his home, but any sales must be done off-site due to the aforementioned residential restrictions.