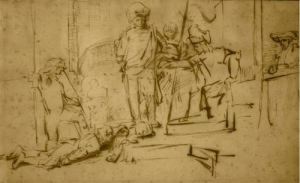 The authenticity of the Rembrandt stolen from a Ritz Carlton in Marina del Ray that was quickly discovered in a church in Encino is in question, the Los Angeles Times reports.
The pen and ink drawing called "The Judgment" was stolen out of a private exhibit in the hotel while the curator was distracted by a potential buyer for a different piece. It is said to be completed in 1655 and worth $250,000.
The Times reached out to other curators and art historians who were "reluctant" to comment on the piece, but some "expressed doubts about the piece's authenticity:"
Dr. Martin Royalton-Kisch, retired curator of Dutch drawings at the British Museum, said in an emailed response that based on the style of the drawing, "It's clearly [in my personal opinion] a work of Rembandt's school rather than by Rembrandt himself."
The Times reports it is unclear what documentation the Linearis Institute, the drawing's owner, used to establish its provenance.