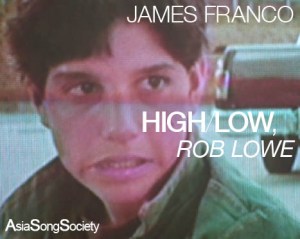 The air was hot and thick inside Terence Koh's Asia Song Society on Canal Street. The heat was overwhelming before many people had showed up for last weekend's opening of James Franco's video installation, "High/Low, Rob Lowe." A neon sign that said THREE'S COMPANY THE DRAMA directed The Observer into the first room. There was a black leather couch in the center. A bumpy video of Three's Company projected on the wall, the quality fuzzy and slow. On the other walls were several projections of Mr. Franco and friends dressed as characters from the show, acting out episodes from the first season. Mr. Franco's voice boomed through speakers.
"Eventually I'm hoping to open a restaurant for people who enjoy my prices," the voice said.
An older woman wearing a dress that had the words "BALLS BALLS BALLS" printed on it entered the room. She pet a baby on the forehead (the mother holding the child flashed a look of fear) and then began filming the projections with her phone.
"Oh my God," she said.
"Well, here I am," the voice said.
As if on cue, MoMA P.S. 1 director Klaus Biesenbach, Mr. Franco and the artist Laurel Nakadate entered the room in a line. Mr. Franco wore two flannel shirts and a baseball cap. He walked straight to the basement.
Downstairs it was even hotter. On the staircase, The Observer saw a photo-realist painting of Mr. Franco and his grandmother. It was for sale for $2000. We walked past piles of 50 old Samsung TV's. They were playing woozy images of desert, of a Comfort Inn off an interstate, of Mr. Franco.
"So," The Observer asked him, "Do you like Three's Company?"
"Oh, uh, no," Mr. Franco said, drawing out the last word. "We chose that just because it was such an iconic show. It was the number one show of its time. In a lot of ways it has a lot of dated, un-PC kind of humor. You know, Jack's trying to be gay and they make all these gay jokes. So the idea was to take that kind of material and play it like it was a drama. That idea developed into this installation."
"It's so hot," he added, sweat dripping freely from his face. "I didn't plan on it being so hot."
On the far wall was another video of Mr. Franco being driven in a car to various places—Lightning Field in New Mexico, the Spiral Jetty in Utah—as he reads passages from Rob Lowe's autobiography and The Wizard of Oz.
There was a lot of Franco in the room.
Mr. Franco told us he showed one of his first short films at Asia Song Society and that he filmed the movie Shadows and Lies in the space about a year ago. Mr. Franco plays a film editor. The dark and dingy basement is his studio.
"Actually, my character, he gets shot." He pointed to the back corner. "He dies right over there."
The Observer retreated to the comforting air outside where a swell of people stood, smoking and letting the sweat dry off their clothes. Around the corner, at Invisible Exports, DIS Magazine had turned the gallery into a bizarre white collar environment for an installation called "Office Space." Saturday was their office party. Inside there was a water cooler filled with vodka and lemonade. There was a dancer gripping a pole in the room. She was upside down and doing the splits. Mr. Biesenbach stood by the pole and The Observer joined him. We exchanged a glance.
"It's quite a, uh, interesting opening," he said.
Nate Freeman contributed reporting.