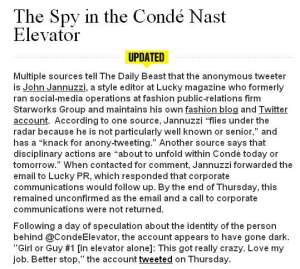 Lucky style editor John Jannuzzi is not the anonymous  author of the now-defunct @CondeElevator twitter, as the Daily Beast reported yesterday.
"I can confirm that John is not the creator of the Twitter handle @CondeElevator," Conde Spokesperson Beth Jacobson told The Observer.
After a couple of mildly irritated tweets,  Mr. Jannuzzi published a good-humored denial on Lucky's website.
"According to The Daily Beast, sources say disciplinary action is only hours away and I'm shaking in my Tretorns," he wrote.
"On a personal note, according to another tipster, I'm 'not particularly well known'–I'll nurse my wounded ego later."
As far as we can tell, the only evidence it was him was that the account had followed him early in its brief life. It's somewhat ironic that the most hurtful things to come out of @CondeElevator weren't the elevator sound bytes themselves, but the anonymous barbs given to reporters, who, it must be said, led a witch hunt decidedly more aggressive than any internal Conde Nast investigation.
Maybe there's a lesson here! Oh, wait, definitely no. Meet @CondeElevator2.