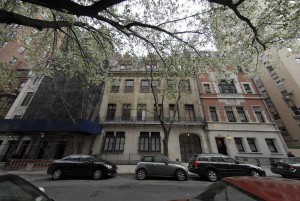 It seems that Larry Gagosian has been quietly looking for a new place to throw his raucous parties. And found one he has.
The bronzed behemoth of the New York art world, has purchased the storied Harkness Mansion, The New York Post reports.
Mr. Gagosian will not want for space in his new home. The five-story limestone mansion encompasses 21,700 square feet. Built for a shipping magnate in 1896, it has housed some of New York's most notable: the Mortimers, IBM's Thomas Watson, a bunch of Standard Oil families.
The home certainly isn't a stranger to the auction  block. In 2006,  billionaire J. Christopher Flowers bought the Harkness for $53.6 million, making it the largest individual deal in the history of New York real estate.  But the property was back on the market in 2009, already asking it less than what Mr. Flowers paid. He was reportedly going through a bitter divorce.
Mr. Gagosian reportedly paid $36.5 million for the mansion, a remarkable deal considering the selling history. That's not to say, however, that the home is ready and waiting for the art dealer to move in. Mr Flowers reportedly spent upward of $4 million gutting the property, but the renovations were not completed. Mr. Gagosian will have to pick up where he left off, spending what is sure to be a hefty sum on the home's facelift.
The art market must be doing well, as Mr. Gagosian also purchased a home in Holmby Hills, L.A., for $15.5 million, according to Curbed. The dealer also got a deal on that property, saving about $3 million from the basic asking price.
eknutsen@observer.com