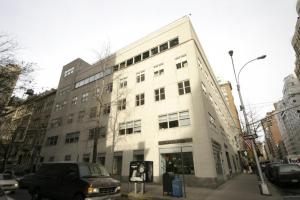 Real estate is woven inextricably into Mr. Gagosian's art world ascent. "If I weren't doing this, I'd probably be in real estate," he told then-Village Voice art critic Peter Schjeldahl in 1981. The New Yorker had come to L.A. to assess the local art scene, and in Mr. Gagosian's gallery he found "the cold excitements of money." An early profile observed that Mr. Gagosian "works in a manner more typical of real estate developers and movie executives."
By this point, what is perhaps lost in the sands of time is the simple fact that Mr. Gagosian's empire is built on a single, canny real estate move. In the early 1970s, when he was in his 20s, he spotted a vacant patio space in an old Spanish building in the center of Los Angeles's Westwood Village. "It just struck me that that would be just prime real estate—why is it sitting there?" he said in an early interview. "So I found out who owned the building and I asked him whether I could rent this vacant courtyard for an arts-and-crafts kind of show there." Mr. Gagosian, who was then selling posters, paid the first month's rent of $75 with a loan from his mother. According to a 1972 article in the Los Angeles Times, he charged the 25 craftsmen manning the card tables that made up his Open Gallery—they sold things like purses and candles—$6 a day plus 10 percent of their gross.
Once an art dealer, he was no stranger to living with his work. Seven years before he rented the ground-floor space in artist Sandro Chia's studio building on West 23rd Street in 1985, Mr. Gagosian briefly operated a private gallery in a loft at 421 West Broadway, in collaboration with the dealer Annina Nosei. Mr. Gagosian was spending most of his time at his gallery in Los Angeles then, but when in New York he continued to live in the loft even after he opened in Chelsea. (Mr. Gagosian has said he bought that loft in 1978 for $10,000 and a Brice Marden painting. Peter Marino did the renovations.)
In his native Los Angeles, Mr. Gagosian briefly ran a similar operation in the early 1980s. In addition to his gallery in West Hollywood, Mr. Gagosian held at least one exhibition in a building he built on Market Street in Venice, which also served as his Los Angeles home. In the late '70s, before Venice gentrified, Mr. Gagosian pounced on a vacant lot there and hired the architectural firm Studio Works to create an innovative structure for him. In the late 1980s, it sold to Andy Summers, guitarist from rock band the Police, and on the occasion of L.A.'s bicentennial, it was designated one of the 200 most significant buildings of the past 200 years.
Craig Hodgetts, who ran Studio Works with Robert Mangurian, recalled the day Mr. Gagosian walked into the architects' office on the Venice boardwalk. "We were on the beach and had a garage door we left open. This guy comes through the door, looks around the office, and says, 'Are you guys architects? I just bought a property around the corner and I wonder if you would be interested in designing something.'" It was seemingly casual, but in hindsight, Mr. Hodgetts said, "I think he knew exactly what he was doing." He must have known a bit about architecture, since he had been living in the Richard Neutra-designed Strathmore building in Westwood, in the same apartment Charles Eames once called home.
And then there is Toad Hall. The spectacular beach house in Amagansett was built for Francois de Menil by architect Charles Gwathmey in 1979, one of the postmodernists' most celebrated homes. Mr. de Menil sold the home 12 years later, after "a lifestyle change." It went on the market for $12 million, and while the price is not known, it was bought after a bidding war between Edgar Bronfman, Jr., who prevailed, and Mr. Gagosian. In the early 1990s, the newly divorced Mr. Bronfman bought a townhouse on East 73rd Street, and his broker, Roger Erickson, leafleted the neighborhood to promote his business. "I get so much junk mail from you," Mr. Gagosian told him, according to a New York magazine profile of the broker. "But since you've bothered me again, I'll ask you if Bronfman wants to sell his house in Amagansett." Just like the Harkness deal with Mr. Flowers, it was a broken man in a broken economy. Mr. Gagosian got his beach house, and he only paid $8.15 million for it.
Mr. Gagosian mixes work and hearth to this day. On Oscars weekend this year, he installed an exhibition of artworks by Richard Prince at his new Holmby Hills home in L.A.—he had just purchased it for a cool $15.5 million the year before—and hosted a tony get-together there. According to The Wall Street Journal, members of his staff "mingled with guests, discreetly passing a rolled-up sheet of paper between them like a baton. The sheet listed prices for nearly every artwork in sight."
Indeed, a similar air of showiness suffuses Mr. Gagosian's current home—which he bought in 1988 from Schlumberger heiress Christophe de Menil—inside a converted stable at 147 East 69th Street. (The street has long been a haven for artistic types—Mark Rothko had and Jacob Collins has a studio down the block.) Pieces from his prodigious private collection hang on the walls, including Richard Prince, Andy Warhol, Cy Twombly, Damien Hirst, Roy Lichtenstein and countless contemporaries. Photos of a 2009 party there reveal guests swilling wine feet from multimillion-dollar paintings. Mr. Gagosian is said to have what may be Picasso's last painting hanging over his bed.