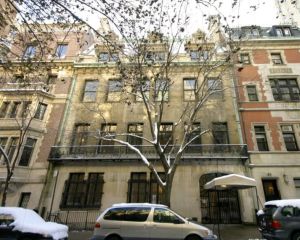 Still, odds are this will be nothing more than a home for Mr. Gagosian, which is to say, of course, that it will be a gallery, as well, or more than a gallery, even. The thrill of buying off the gallerist's walls is paramount, and at three times the size of Mr. Gagosian's current home, oh, will there ever be a lot of wallspace. His current house is by all accounts stunning but has relatively small entertaining areas. A good portion of one floor is occupied by a lap pool.
While few of the mansion's original details remain, the soaring, five-story atrium, which used to be an entrance for horse-drawn carriages, remains—big enough for a Serra or two. And it gives his stable of beloved architects plenty of space to play with. Like the 1,200-square-foot terrace looking across the avenue to the park, all of it perfect for entertaining.
And that is precisely the point.
The collector familiar with Mr. Gagosian insisted that the art on the dealer's walls is his own collection and is not for sale. Yet it serves a purpose even more important than sales, as an example to the guests he entertains. This is how a megawealthy person can live, should live, must live—with great art. A visitor might think, I could live like this. If that visitor decided to do so, he or she would know where to go to buy such things.
"Is it anything a standard gallery person could do and get away with? Probably not," said one source. "It's not something Gavin Brown could or even would do. But Larry's a word-of-mouth, private-client, private-banking kind of guy. It won't be his gallery. It will be his salon."
Or, it could just be his home. He is, after all, perhaps the only art dealer who has managed to attain the lifestyle of his billionaire clients. It is about time he started really living like one.
With additional reporting by Elise Knutsen.