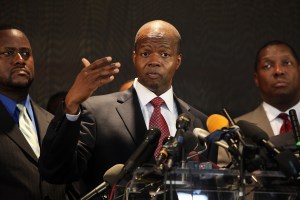 "Let me just say this: I don't seek out the high-profile cases, but any lawyer who would tell you they don't want a high-profile case wouldn't be telling you the truth," said Kenneth Thompson. "If you look at my background, yes, I've done some high-profile cases, but I'm not a high-profile guy." He was sitting behind his desk in the sleek law offices of his firm, Thompson Wigdor, which currently represents Nafissatou Diallo, the victim of an alleged sexual assault at the hands of ex-I.M.F. chief Dominique Strauss-Kahn.
A month earlier, however, at an impromptu press conference on the steps of the Manhattan Supreme courthouse, a high-profile guy is exactly what Mr. Thompson looked like. He spoke in the cadence of a seasoned trial attorney as he described the alleged events of May 14. In graphic detail, he narrated the account of the assault Ms. Diallo alleges to have suffered at the hands of Dominique Strauss-Kahn in room 2806 of the Midtown Sofitel.
"She was told no one was inside that room," Mr. Thompson intoned, "and she went into that room believing that no one was inside that room. And then Dominique Strauss-Kahn came running out of one of those rooms, naked, towards her. And he grabbed her breasts first and started to attack her. He then grabbed her vagina with so much force that he hurt her. He grabbed her vagina with so much force that he bruised her vagina. When she went to the hospital later that day, the nurses who examined her saw the bruises on her vagina that were caused by Dominique Strauss's hand …
"We believe that the district attorney is laying the foundation to dismiss this case, anyone can see that," he added with finality. "We don't have confidence that they are ever going to put Dominque Strauss-Kahn on trial."
Repeating points for emphasis, and stopping to emphasize to reporters "and this is important," he shaped the sordid story. It was uncomfortable to hear—no doubt his intention. By the 10-minute mark, Mr. Thompson was really hitting his stride with a full-blown jeremiad on abuse of power. He was the heir to a tradition of very public lawyers, men like Johnnie Cochrane and Sanford Rubenstein, who seem to materialize any time a case—particularly a racially charged case—hits the front page.
Despite his claim to the contrary, Mr. Thompson seems particularly adept at having high-profile clients find him. In recent years, he has represented Sandra Guzman, a former editor at The New York Post who sued the paper for wrongful termination, alleging discrimination; Sherr-una Booker, the woman who accused an aide of Gov. David Paterson of domestic abuse; victims of the midtown steampipe explosion; families of the victims of the 2008 Upper East Side crane collapse; and state Democrats named in last year's Aqueduct scandal. But the D.S.K. case is Mr. Thompson's breakout moment.
To say that Mr. Thompson was trying the case in the press would not be strictly accurate. He was not technically a litigant in the case. But what he was clearly doing was trying to get the case to trial, using the press. In his mind, Manhattan District Attorney Cyrus Vance was on the verge of dropping the charges against Mr. Strauss-Kahn, and Mr. Thompson was using one of the few tools left at his disposal to strong-arm Mr. Vance into proceeding with the prosecution. "The district attorney has an obligation to stand up for this rape victim," Mr. Thompson insisted.
The D.A.'s office was frustrated with the move. "It became clear that his motivation was not doing what he could to help prosecutors build a criminal case," said a source close to the matter. "If anything, he seemed determined to work against it. Publicly promoting his own agenda vastly overshadowed advocating for his client."
The offices of Thompson Wigdor more closely resemble a digital ad agency than a law firm. The space, designed by the small Williamsburg architectural firm Studio Tractor, is all clean lines and Modernist aesthetics. Mr. Thompson's office is devoid of the usual legal paraphernalia—shelves of law books, for instance—usually associated with a lawyer's office.
With his large carriage and expressive face, Mr. Thompson, is a man of considerable presence. He recounted his life story. which at times had the ring of an introduction at a dinner in his honor. "You're looking at some one who was born and raised in the city," he told The Observer. "I'm as New York as they come."
Born in Harlem, he was brought up in Co-op City by a single mother who worked as an N.Y.P.D. patrol officer (an assignment made possible by a class action suit filed by female officers, who had until then been relegated to desk duty in the department). He produced a copy of I Can Be Anything, a sort of self-help career book from the '70s. A paperclip-marked page has a picture of his mother in uniform, smiling proudly for the camera.
He did reasonably well at John Jay college, and excelled at N.Y.U. law, where he met Ron Noble, then an evidence professor, but now the head of Interpol, based in Lyon, France. When he was tapped to head the federal investigation of the raid on the Branch Davidian compound in Waco, Texas, Mr. Noble choose the young Mr. Thompson to join him in D.C. "It was clear to me that he was going to have a distinguished career in the courtroom and that he was going to be on the side of justice," Mr. Noble told The Observer.
"He allowed me to write a section of the report," recalled Mr. Thompson, "which was a big deal. And since the head of the Secret Service reported to him, I was able to go to the White House on occasion, and that was a big deal." He emphasizes this last phrase in such a way that conveys that the privilege was a big deal to him, but also a big deal.