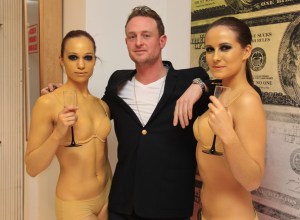 In the print entitled "Love Me Or Leave Me Alone" by artists Maximilian Wiedemann and Tyler Shield, Lindsay Lohan is writhing on a bed, in a silk laced bra, her skin and undergarments washed in an absinthe hue. She's wearing a Liz Taylor wig, two fingers rest on her bottom lip, and the whole thing is repeated below, inverted.
And for some reason Ms. Lohan seems completely oblivious to the fact that above her four men are shown from the torso down grasping at their waists, hungrily undoing belt-buckles and ripping off their slacks.
"Well Hung," the duo's show that features the print as its centerpiece, opens this October at Imitate Modern in London.
"We picked Lindsay, not only because we're mates, but it's like, 'What has happened to this girl!'" Mr. Wiedemann told The Observer on the phone from Salzburg, Austria, where he had just finished dinner (Local time over there: 1:00 a.m.)
"Girls like Lindsay, deep down, they just want to be living their lives, but they can't — because she's a magnet."
Mr. Wiedemann and his partner, Mr. Shield, are only the latest gallery artists intent on making Ms. Lohan a true muse of serious pop-art. For an 2009 New York exhibition, "Vanity Unfair," the artist created a Warhol-heavy re-imagining of the Conde Nast title. According to The New York Times, the displays exposed "the banality of the fashion system and the social injustices that are too often overlooked by an It-bag-obsessed culture."
"Celebrity has become a currency — brands use it, celebrities themselves use it, artists use it," Mr. Wiedemann explained. "Watches, credit cards, yachts, you name it — girls, too. Celebrity is one of those currencies."
Mr. Shield, who has shot starlets in ways that have caused his images to be banned in over a dozen countries, focuses on the currency of violence.
"This day and age is moving very first," Mr. Wiedemann said. "That's why Tyler shows guns, Tyler shows blood, and why I show billion dollar bills."
(At the time of the interview, the riots that ravaged London had not yet taken place.)
After yawning and inviting us for a night out when he's in New York — "I don't know you but I'd love to have a beer!" — Mr. Wiedemann explained how "Well Hung" would diverge from influence of Andy Warhol.
"We are turning around the mission that Warhol had," he said. "He took mass iconography and that would appeal to the masses and then he put that into the canvas. Now, my mission — and Tyler's mission — is we use the media as the medium, letting it move much faster than by being in the gallery."
We agreed.
"Every medium is a gallery!" he said.
To that end, now you can look at "Love Me Or Leave Me Alone," in this blog post, below.