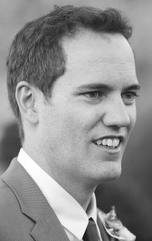 ­­Home to Walt Whitman, the father of American poetry, Brooklyn has raised Henry Miller and inspired Hart Crane and Truman Capote, among many others. And in today's Brooklyn, of course, the literati teem through the streets – it's difficult to buy a coffee these days without tripping over Jonathan Safran Foer or Jhumpa Lahiri en route to a reading.
And so, last Tuesday in Brooklyn, the anxiety of influence weighed heavy upon the shoulders of those gathered to celebrate the launch of Evan Hughes' new book, Literary Brooklyn, alongside their own generation of literary Brooklyn. How to act? Lecherous like Norman Mailer? Or ponderous as Whitman? Better to emulate someone already deceased to avoid the embarrassment of being spotted in a Paul Auster-esque pose by Paul Auster.
In the event, neither he nor any other Brooklyn literary giants were present, aside from those reading, rendering such self-conscious precautions unnecessary. Instead, a throng of people in the far corner lined up for drinks in plastic cups – wine, or Brooklyn's own Sixpoint Craft Ale – as they chatted away with vibrant faces full of curiosity. Others were beginning to seat themselves on the chunky cold concrete steps of the bookstore's take on an amphitheatre beneath the exposed metal pipes on the high ceiling.
The emcee made her way through the book tables, which were piled high with titles such as 1000 new eco designs (such is Brooklyn's literary advancement and postmodernist outlook that it has disposed of the custom of  capitalizing titles) and books published by powerHouse Books (see?), to the microphone. She interrupted Lou Reed and announced that proceedings were beginning.
The crowd hushed immediately so that they could be told about Brooklyn's winding and varied literary history. Proceedings didn't quite begin immediately, but no one dared speak again, so we sat in silence.
After Mr. Hughes had been introduced (by way of his author bio being read from the back of his book), he quoted Norman Podhoretz: "One of the longest journeys in the world is the journey from Brooklyn to Manhattan." The Brooklyn crowd murmured and laughed – a comment on class mobility and assimilation is equally applicable to being stuck on a slow F Train.
His reading, taken from what he called one of the more troubled eras of Brooklyn's multifarious tale, featuring Alfred Kazin, Bernard Malamud and Daniel Fuchs, then was followed by Fort Greene based journalist, Touré, reading from his book Soul City.
"Evan asked me to read something about Brooklyn. This isn't exactly about Brooklyn, but those of you who really know Brooklyn will feel the Brooklyn in this," he said.
Zealous Brooklynites and Manhattan dwellers alike again laughed the laugh of a truth confirmed as Touré read about Soul City's mayor, Emperor Jones, whose main responsibility is to DJ for the town.
More Brooklyn jokes followed. The author Michael Thomas isn't a Brooklyn writer – he's from Boston and, as he made clear, hates New York, despite having lived here for twenty years, so… he read "In memory of W.B. Yeats" by W.H. Auden, who lived in Brooklyn for a year in the early forties.
Then Ukranian-born, Brooklyn-dwelling, indie-singer-songwriter Alina Simone sang some songs she had written, and one she had not.
"As an indie-singer-songwriter, I like to introduce people to other emerging artists," she said by way of introduction to her second piece. The audience was vaguely intrigued as she played the opening cords. The irony was that it was in fact a cover of Britney Spears's "Oops! I Did it Again", but her joke had slipped by, unnoticed, and floated upwards with the music.
Mingling ensued, and there was a buzz of excited, friendly chatter – the kind to which Mr. Hughes referred when we inquired what exactly it is that attracts so many writers to Brooklyn.
"It's welcoming, friendly. It's like a home in a way that Manhattan is not," Mr. Hughes, also a Brooklyn resident, enthused.
And will this book form a part of the borough's burgeoning literary heritage?
"One can only hope so," Mr. Hughes said, with a modest laugh.