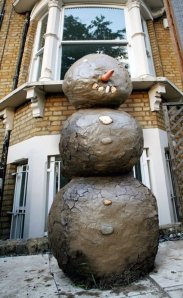 Blain Southern isn't the only London gallery to experience backlash from the riots in London.
On Monday afternoon, Looters took to Queensdown Rd, where London's WW Gallery is located. The gallery is closed for the summer, but their newly commissioned sculpture by Eva Lis, Mudman (pictured), part of the museum's Patio Projects outdoor installation initiative, had a close call. According to the gallery:
"Two boys entered Patio Projects to pick up loose concrete and bricks, and threatened to smash in our window when they saw our camera, however they pretty much ignored Mudman himself."
Mudman is safe for now and on view until September 30.