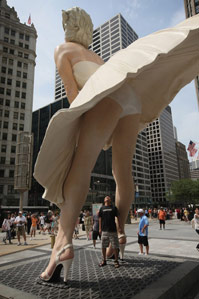 The Wall Street Journal is still on the warpath against the hideous Marilyn Monroe monstrosity in Chicago. If you haven't been following this story, there is a 26-foot tall statue of the actress in her iconic pose from The Seven Year Itch. It is called "Marilyn Forever." It's ugly, offensive, has nothing to do with Chicago and inspires childish behavior from tourists and citizens alike as they stand beneath the statue's massive legs and peer up into the abyss.
The last time we checked in, the Journal's Eric Felten wrote a fantastic essay in which the most positive thing he could say about the statue was "iconic images end up, like other recyclables, empty." Apparently, the city of Chicago, as well as many visitors to the Michigan Avenue plaza where the piece is situated, are not pleased. The Journal offers this apocalyptic image:
Curious visitors, sometimes more than 100 at a time, swarm Marilyn. Little girls stand on her toes, leaving black scuffmarks on her red pedicure. They hug her ankles and struggle for footholds on the straps of her slingback high heels.
And this depressing bit of kitsch:
"There's always someone under her legs," said Keara Nicholas, a 20-year-old waitress at an outdoor bar. A brass band had just been serenading the sculpture with a swooning rendition of Stevie Wonder's "Isn't She Lovely?"
More troubling is the fact that people are still defending this wholly unnecessary piece of garbage. Listen, we like Marilyn Monroe as much as anyone, but the statue is nothing but a blemish on the city of Chicago. The most depressing bit of information in the Journal's article? "Famous attractions such as the Wrigley Building and the neo-Gothic Tribune Tower loom nearby, but, said John Williams, a radio host, 'nobody looks at them.'"
The statue is supposed to be up until next spring.