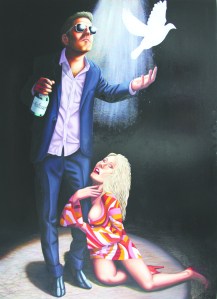 The artist William Powhida was a thousand miles away in Wisconsin on the evening of July 27 when a man claiming to be William Powhida drove into the ground-floor garage of the Marlborough Chelsea gallery in a vintage green Mercedes convertible, drinking from a bottle of Champagne. He sat on a couch that was barricaded off and continued drinking, inviting a few friends to join him. While an audience watched, the man bossed around an assistant, sent out messages on his Blackberry and flirted with the two svelte blond women seated next to him. A painting by the artist Tom Sanford hung on the wall: it was a depiction of the man who was in the gallery, acting the fool. In the painting, he was releasing a dove from his hands while a busty blond woman clung to his leg. It was all an act staged for a gallery opening. On the wall by the entrance, in big black letters, was the name of the show: POWHIDA.
"It was meant to bring in a new crowd and start a discourse," Max Levai told The Observer last week. At 23, Mr. Levai is responsible for Marlborough Chelsea's new programming that focuses on a younger audience. POWHIDA was a high-profile gesture announcing this new direction. The gallery had been cleared out save for Mr. Sanford's painting, as if cleansed of its history and reputation.
"It was clearly a show conceived by Powhida," Mr. Levai said when asked if he thought Marlborough was one of the themes the show was taking a swipe at. "The fact that it was a large gallery space on the ground floor helped the project conceptually, but I don't think it would have been that different in any other context."
"I wouldn't have done that performance anywhere else," the real William Powhida told The Observer last week. "It really was site specific to Marlborough. It sort of hinged on their reputation as I knew it at the time and as a lot of people know it: not really being a part of the contemporary art conversation. They do really well in their sphere in selling really established artists, but as part of the art scene that I've been paying attention to, they just weren't really on my radar."
It was a surprising pairing, Marlborough and Powhida. The crowd was a mix of art-world cognoscenti and young kids in flannel and sneakers. People sipped on Pernod absinthe instead of white wine and occasionally scoffed at the actor, who by now had lit a cigarette. A Marlboro. The writer Anthony Haden-Guest told The Observer, "We've been here before."
"Someone at The New York Observer wrote an article saying the actor was really William Powhida," Mr. Levai told The Observer a few days after the show's two-week run at the gallery had ended. "They just didn't get it."
"Yeah," The Observer said, "I wrote that article."
"Oh." He paused. "That was you."
A brief but significant silence ensued.
Later, Mr. Powhida told The Observer the performance was meant to bring the character he had been developing for five years in his paintings (and in at least one YouTube video) into the real world. If this was the public birth of the William Powhida persona, how was it wrong to call that person William Powhida?
As it turns out, the show marked the birth of something else as well: the new Marlborough Chelsea. It has hired a younger staff and is recruiting younger artists. Still, the name Marlborough is one that few would consider at the cutting edge of contemporary art. The Chelsea gallery opened in 2007 with a show by Tom Otterness, whose public works can be seen all over New York. His private commissions sell in the low seven figures. (To put that into context, Mr. Sanford's painting in the POWHIDA show sold for $18,000.)
Marlborough opened its 57th Street business in 1963 with a stable of artists that reads like a checklist of the then-dominant New York School, including David Smith, Robert Motherwell, the estate of Jackson Pollock and Mark Rothko. After Rothko's suicide in 1970, the artist's three executors—one of whom was an artist represented by Marlborough and another the gallery's accountant, who would later became its director—sold 798 Rothko paintings to Marlborough at the wholesale price of $12,000 a piece, far below the artist's market even at the time. They sold 36 of those paintings at a profit of over $2 million. Rothko's children filed suit against the gallery, resulting in a tangled court case that dragged on for three years. The court ruled in favor of the artist's children, saying each painting was valued at a minimum of $90,000. Marlborough's founder, Frank Lloyd, was later charged with tampering with evidence. Despite the scandal, Marlborough continued to be commercially successful in the years following under the leadership of Mr. Lloyd's nephew, Pierre Levai (Max's father), known to the art world as a serious, no-nonsense man. (Max Levai said his father was not available to speak with The Observer.)
Marlborough is not the only blue-chip gallery to try to appeal to a younger crowd. For years, the Pace Gallery, founded by Arne Glimcher in Boston in 1960, was known mostly for a stable of seminal Minimalists. In the past few years, the gallery has brought on younger artists like Sterling Ruby, and hired directors who have worked with emerging talent.
Working both ends of the Modern and contemporary art spectrum has proved to be a solid model for dealers, at least financially. The Gagosian Gallery, founded in the late 1970s and widely considered to be the world's most successful art dealership, trades in Monets and Picassos but also does brisk business in work by 32-year-old Dan Colen. Mr. Colen's show there last year, "Poetry," was met with almost universally negative criticism, but the works sold. Contemporary auctions have recently surpassed Modern and Impressionist ones in terms of profit. If high-end galleries don't start paying attention to more youthful artists, they risk becoming nothing more than mausoleums. For a primary market gallery, though, Marlborough's roster has a large number of artists in their 70s. Many others are deceased. The gallery's movement toward contemporary art may be a push for relevancy, but it is also, arguably, a necessity.
"I think this change is natural," said the art adviser Todd Levin, who counts the Levais among his friends. "As the gallery gets older, the issue of succession becomes more an issue at the front of the house. You know, 'We can't keep existing on the same old stuff, or we'll just be Old Master dealers.'"
One challenge Marlborough faces in changing its programming is building a new collector base. A curator who works with another blue-chip gallery, who spoke off the record, pointed out the paradox that Marlborough's collectors aren't so interested in emerging artists, and people who collect emerging artists aren't so interested in Marlborough.
Two group shows last year—"Look Again" and "Grass Grows by Itself"—demonstrated that the gallery is serious about transforming. "Look Again," curated by Casey Fremont and Karline Moeller (the press release was quick to point out that both women are in their 20s), was a way of bridging more contemporary works with the gallery's older artists to provide new context. Artists like Peter Coffin and Chakaia Booker mingled with the paintings of Manolo Valdes, which are heavily influenced by the gallery's history with Abstract Expressionism. If the suggestion to "look again" at the gallery in a different light was somewhat blatant, it was also a practical way for Marlborough to test how well it could do in a contemporary art market. One source said the idea of separating the Chelsea gallery from its midtown headquarters through the introduction of young artists "wasn't even a question" before the young Mr. Levai came on board last year.
"The gallery, since it was conceived, was intending to bring on new artists," Max Levai said. "Our Chelsea space is completely different from the 57th Street space. There are shows we've done in Chelsea that would have been impossible at 57th Street. Everybody calls it an emerging artist program and I think it's a classic art world misnomer. In the gallery scene, they've already emerged, even though they're only emerging in the auction houses."
One of those artists is Rashaad Newsome. His work combines the iconography of heraldry and hip-hop through elements of painting, music and dance. Mr. Newsome was "suspect" when the gallery first approached him.
"My work really didn't fit into that gallery," Mr. Newsome said, speaking of Marlborough in its previous incarnation. "Not only because of the work itself, but because half of their artists are dead. You know, I'm alive. But they can obviously finance certain ideas that a younger gallery couldn't. For me, it's about the work existing, and if they can help to facilitate that? All good."
At a party in March in collaboration with BOMB Magazine, Mr. Newsome played hip-hop beats through a laptop while wearing a big, black crown. A small group of musicians played live with him, including the young rapper Nast.
"I'm gonna promise I smoke some good weed," Nast bellowed into his microphone.
It was quite a departure for a gallery that shows the innocuous, often idealistic work of Dale Chihuly and Red Grooms. It was also anticommercial, especially considering the gallery's secondary market includes powerhouses like Francis Bacon.
"Ask me if I give a fuck what the haters say," Nast continued.
Even though the press picked up on the fact that it consisted of an actor playing a role, a majority of critics, unsurprisingly, were still not pleased with any component of POWHIDA. They dismissed it as derivative schlock—from the performance right down to the audience itself.
"Powhida fans smirked knowingly," Brian Droitcour wrote in Artforum's online Scene and Heard diary. "Marlborough regulars furrowed their brows … The venue brought out the worst in the opening's two demographics: The Bushwick types enjoyed playing rock stars-and-groupies beyond irony, and the actual rich dudes felt entitled to shove their way to the front of the line for absinthe mojitos."
On Artnet, the reliably irascible Charlie Finch was more forthright. "What does it say about the art community that a derivative, no-talent turkey can create a sensation by reviving an old Andy Warhol trick to impress young morons and get a lot of summer press attention for doing nothing original?"
It is rare for a gallery to be so much a part of the show that the institution must bare the brunt of the criticism.
"Most of the reviews," Mr. Powhida said, "I'm not gonna say they let the gallery off the hook, but there was never any question of why they did this show. For me, it was about twisting that quest for fame back on Marlborough."
The audience's frustration was palpable, even at the opening. Guests carried it with them as they migrated to the roof of the Mondrian Hotel, where everyone drinking switched from absinthe to vodka. A few of the actors had slipped out of character, but "William Powhida" was still at it. He was being followed by a cameraman. He spoke loudly of his genius. Many people ignored him.
mmiller@observer.com
This article has been revised to reflect the following correction:
Correction: August 24, 2011
An earlier version of this article stated incorrectly that the Pace Gallery's new space on 25th Street had been designated as a venue for showcasing younger artists.