The Michelin restaurant ratings are among some of the most coveted—and widely reviled—reviews in the entire world of restaurants and restaurant criticism. They loudly tout their "famously anonymous" team of critics and hardcore ratings standards. So why are they Tweeting about eating at Manhattan's famous seafood mecca Le Bernardin last night when the restaurant's been closed since August 1st for rennovations? 
The Tweet—which was sent from Michelin's authorized Twitter account for New York City—read like this:
The mean reportorial skills of Bloomberg food writer-critic Ryan Sutton took contention with that: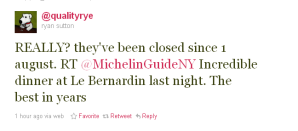 Maybe Eric Ripert's much-beloved fish eatery opened up for one night, and their "famously anonymous" inspector dined there in sheer coincidence, though. So we called up Le Bernardin's reservation department and asked them: Were they open last night?
They weren't. Which leaves two conclusions: Either the Tweet is wrong, or an exception was made for a Michelin reviewer. If the former is the case: Why lie about eating at Le Bernardin? And if the later is the case, then a "famously anonymous" Michelin inspector was given preferential treatment, thus making him or her far less "famously anonymous."
After dialing multiple numbers at Michelin's guide distributors, we finally reached one Tate Hoxworth, a spokesman for the Michelin Guides. "I don't know the answer to that," Mr. Hoxworth confessed, when asked about the Tweet's validity.
He had one theory, which was that sometimes the Tweets, which are sent in from contributors, can be delayed. So who's running a Twitter account that lets presumably month-old Tweets vouch for Michelin's credibility? He knew—it's the editor of Michelin's North American guides—but couldn't give us a name. He explained that he'd look into it. An email requesting comment from a formal representative of Le Bernardin was not immediately returned.
The Michelin Guides only found their way to New York City's restaurants in 2006, when their first edition for this city was released. As The Observer then reported, they were not received warmly, and in their arrival, were considered invasive, rude, and betraying of their reportedly steadfast critical standards.
In 2009, Michelin—in need of better press among American restaurant-guide buying set/the Zagat guides' market share—took the unprecedented step of allowing The New Yorker access to one of their reviewers in 2009 for a profile.
Meanwhile, for naysayers of the doughy-tire-man-shilled-guides, another moment of validation: their Twitter account is either lying, corrupting their anonymity, or wrong by an error margin of thirty days. Unless they've got a better explanation.
fkamer@observer.com | @weareyourfek