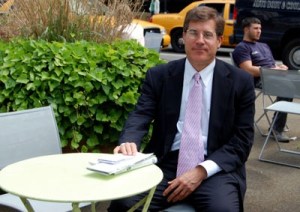 Dan Biederman, head of a half-dozen BIDs and civic organizations (one of the city's shadow mayors!) has been steadfast in his support of the re-engineering of midtown streets at the hands of the Bloomberg administration, even when it rankled many of his constituents. The passion shows in a brash, even scathing, interview with Streetsblog, where Mr. Biederman calls out a couple hacks.
He blames the powerful taxi lobby for its windshield perspective:
First, cab drivers are terrible participants in public fora. They don't know shit because they're on the phone all day long, yet they're able to drive. The fact that they're also, in their minds, better transportation analysts than people who went to school in that subject and have all kinds of citywide roles, baffles me. But the view of most business people is that you can count on cab drivers to tell you what the right answer is. I think that's crazy. They will tell you that they're annoyed that something isn't going their way, but they don't have the broader view.
And then he goes after the 100th Most Powerful Man in Real Estate:
If you can make [the landlords and developers] happy, all that will be left is the general concerns, as far as our district goes, about curb access, and I think two or three of those problems have disappeared. I don't hear the Empire State Building squawking. Macy's is satisfied because of the elimination of the Fifth to Sixth pedestrianization, although I never was 100 percent sure why that hurt their parade plans.So those are the five points that were left after all the shouting and hubbub. We don't pay that much attention to Steve Cuozzo. I think he's a great real estate reporter but he doesn't know this field. He just loves to scream and rant about it.
The Observer has reached out to Mr. Cuozzo—who is most certainly not a hack, but we cannot say no to a good pun—for comment. If not here, it will hopefully turn up loud and proud in a forthcoming issue of the Post.