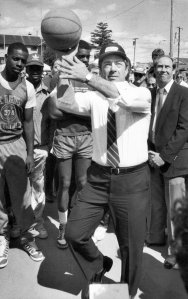 2012: Buffet hosts Obama fund-raiser on 9/30 at Four Seasons; $38,000 VIPs get 1hr Q&A with Goolsbee. [Page Six]
2012: "Libby Pataki, who never craved limelight and who loves her life now, she'll be supportive? Yes." [Cindy Adams / NY Post]
2012: Pataki is probably campaigning for VP, or a job in new administration. [Colby Hamilton / WNYC]
2012: "There are now rumblings from Donald Trump, a former contender for the Republican nomination, that he may run as an independent. There are certain to be others." [Patrick Caddell and Douglas Schoen / WSJ]
NY-13: Possible Dem candidate Murphy has not opened a campaign account yet. [Tom Wrobleski / SI Advance]
NY-25: "Dan Maffei to run again, but district might no longer include Monroe County." [Jill Terreri / Democratic and Chronicle]
54AD: "My job is to campaign. I don't screen every dollar that I receive," said Espinal, when asked about donations from a slumlord. [Erin Dunkin / Daily News]
9/11: Editors urge Bloomberg to allow clergy to pray at anniversary ceremony, noting he's had clergy at his own inauguration. [NY Post]
China: White House says Biden finds China's 1-child policy "repugnant." [Aliyah Shahid / Daily News]
"Cuckoo, cuckoo, cuckoo": Daily News editors trash AP story about NYPD security tactics.
Security Tactics: Star-Ledger runs the AP story above the fold. [Flickr]
State Fair: Cuomo goes there today. Newspaper notes "The truth is, at the fair, Mario was at his best." [Sean Kirst / Post-Standard]
Vacation: "[Cuomo] spent much of the last week in the Hamptons." [Thomas Kaplan / New York Times]
Taxes: "We need real reform of the tax code in which everyone is asked to make some contribution, however small," writes the publisher of the NY Daily News. [Mort Zuckerman / WSJ]
5 p.m.: Zuckerman discusses his op-ed on WSJ.com.
Mortage Probe: Schneiderman's allies apply pressure to Iowa AG. [Jimmy Vielkind / Times Union]
Mortgage Probe: Editors say Schneiderman is opposing the settlement deal because of politics. [NY Post]
Scandal: "Holder called the prospect of hacking 'disgusting' and 'unconscionable.'" [Joseph Straw / Daily News]
DSK: "The dismissal of the charges in no way means that Strauss-Kahn is innocent." [Leslie Crocker Snyder / Daily News]
Property Taxes: Despite 2% cap, they may rise, thanks to soaring pension costs. [Rick Karlin / Times Union]
Schools: "Our safeguards have clearly worked. A comprehensive search for cheating in 2009 by city Controller William Thompson came up empty." [Dennis Walcott / Daily News]
Teacher Evaluations: "[P]ublic-school educators can't be deemed ineffective based only on the performance of their students." [Jacob Gershman / WSJ]
Rochester: Ally of Mayor Byron Brown kicked off ballot over residency issues. [Matt Gryta and Brian Meyer / Buffalo News]
Nassau: "Does he think that if he gives the workers free hot dogs and burgers that all will be forgiven?" PBA re: Mangano's BBQ. [Celeste Hardwick / Newsday]
Nassau: Unresolved ballot issues on Long Island make sending absentee ballots difficult. [Robert Brodsky / Newsday]