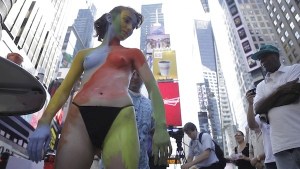 Perhaps you are one of the three people in New York not aware that artist Andy Golub has been painting naked models in Times Square. Well, apparently one naked model dropped her g-string and was promptly arrested yesterday.
This is mildly interesting.
What is perhaps more interesting is that a naked model painted on by Andy Golub was NOT arrested when he did the same thing in the West Village. How do we know this? Because we (in an earlier incarnation) spoke with Mr. Golub back in summer of 2009, when he, along with many hundreds of other artists, was auditioning for that Bravo TV reality show "Work of Art," the second season of which, by the way, begins airing in October. Mr. Golub didn't make it onto the show. Which might tell you something. Or not!
Back then, Mr. Golub kind of evaded one of our questions by telling us "what I'd … love to do is sit down and paint her butt. Want to sit with me?"
The lesson here, if there is one, is this: if you must paint naked humans outside the context of a life drawing class — that is to say, if you must paint on them, rather than create a representation of them — you may want to do this in the West Village, rather than in Times Square.