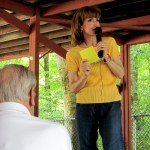 Hudson Valley Congresswoman Nan Hayworth told The Politicker this afternoon that she intends to vote in favor of raising the federal debt ceiling, and hailed the agreement as an effort to right-size the federal government.
"The federal government has grown so enormous and so invasive within our lives that we have reached this point," she said.  "If I could rewrite history we would have not reached this point. We would have kept government to its appropriate and constrained role. The founders trusted the American people and they respected our autonomy and our dignity to be able to make our way in  civil society. That is a beautiful thing. That is something I am fighting for. It is unique in history. It is irreplaceable."
She continued, "We have made another stride towards liberating the American people to do what they do best."
She said that lowering taxes and regulations would increase economic output.
Hayworth represents a swing district and has always been seen as someone likely to raise the debt ceiling if a deal could be struck. Last month she convened a meeting of House Republicans to educate them on the consequences of default.
A number of the leading Republicans who are running for President in 2012 have come out publicly against raising the debt ceiling at all, but Hayworth said that they were in the wrong.
"As far as I am concerned that ship has sailed," she said. "I would differ with Representative [Michelle] Bachmann on this point. Her opposition is pretty much pro forma at this point and Gov. [Mitt] Romney is certainly a very intelligent observer of these things. As I understand he is concerned that this bill  allows for possibility of raising taxes. I am under the impression based on what I know of it now that it would be very difficult for a net tax increase to get past the House."
She added, "And yea, try to get this House of Representatives to pass a tax increase….eh, no."