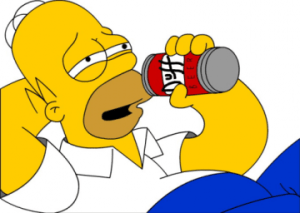 "Pretty much anything they can get their hands on," said Matt Barclay at Park Slope's Bierkraft in answer to The Observer's question about what types of beer people were picking up in anticipation of Hurricane Irene.
The rush is, indeed, on at some of the city's tonier beer and wine stores, as news of the storm's approach rises toward an ursine belch. "People have definitely been, like, stockpiling," Mr. Barclay said over the phone, "picking up an extra growler here and there, and then asking about how much the cases are going to cost."
At New Beer Distributors on the Lower East Side's Chrystie Street, the foot traffic bounced yesterday, as the usual assemblage of customers trained it in from the Bronx, Queens, etc. Tomorrow, however, according to an employee, the store will not open as usual in anticipation of Irene shutting the subways. (Incidentally, The Observer's long-planned Urban Oyster beer tour of Williamsburg scheduled for Saturday was cancelled due to safety and convenience concerns. We'll get there.)
Bottlerocket Wine & Spirit in the Flatiron had not seen a jump in foot traffic—at least not as of 12:30 on Friday afternoon. "You've got to realize that in the summer, 40 percent of your customers are gone no matter what, and they're still gone," said the store's manager, Gary Itkin, in answer to our question about hurricane-spurred shopping. "For the moment, right now, the answer's no. But that could change in a few hours as people start to panic more."
So stay tuned (if you're in the sauce trade, drop us a line as conditions shift).
And, please, New York, drink responsibly until you're safely indoors.
Updated 1:53 p.m.: BR Guest, controller of restaurants like Atlantic Grill, Bill's Bar & Burger, Blue Fin and Blue Water Grill, emailed to say they have a new drink special going this weekend: $10 hurricane cocktails all day through Sunday. Plus! Any woman named Irene gets her first hurricane on the house.
tacitelli@observer.com :: Follow on Twitter @tacitelli