We recently chronicled the excitement that is a plane flying over Manhattan with a message flying behind it, directed towards Washington DC, that read: THANKS FOR THE DOWNGRADE, YOU SHOULD ALL BE FIRED. It would appear this is now becoming a thing, as another plane has gone up, with a new message. This one's a little more obscure. UPDATE: We now know who flew it, too.
Our original tipster, Stephanie Judge, sent in the photo. She writes:
To the best of my knowledge, it said 'DOWNGRADE HURTS USD NOT RUBLE ALWAYS BE FRUGAL', but it was flying lower this time, so it was harder to read. You can't really see in the picture, don't know if you want to post it, but what the hey.
Stephanie, are you kidding? What the hey? The New York Observer has long been the chronicler of planes flying over Manhattan with messages ostensibly directed at our government but that end up going the way of Wall Street since, like, Tuesday. We're going to have to send you a shirt, or some jewelry, or something. You are the best stringer photographer ever. And whoever's flying this plane, well, you clearly are not the best airplane-banner-writer, even if you clearly have a touch of the poet within you. Though as Photographer Stephanie noted in a subsequent email, this could have further potential:
It's like Twitter for rich people.
But really. It kind of is.
Does anybody know who flew this one? Or why? Give us a shout. We're all over this poetic aviation thing.
UPDATE: The identity of the person flying the plane is, of course….a company using it to advertise. Jon Lal of BeFrugal.com wrote in himself to let us know. To his credit, he is the first one with a decent photo of any of these planes flying anything: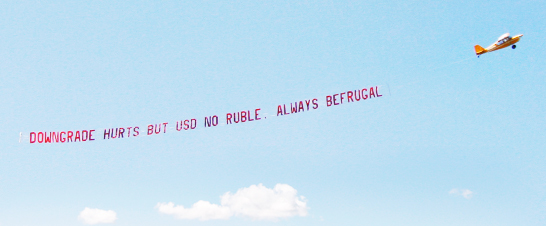 They note on their site:
Standard and Poor's recent downgrade of US government bonds from the highest AAA rating to AA+ is painful. Because the downgrade is like having our "credit score" lowered, it may mean that we will have to pay a higher interest rate on our borrowings. Or that we may not be able to keep increasing our borrowings.

Today, US government expenditure is only covered in part by tax collections; the rest is financed by borrowing. We have continued to spend, because our creditors, including foreign ones such as China, Japan, and Russia have been fantastic enablers so far – but for how long? Will this downgrade serve as a warning that we cannot continue our profligate ways forever? Probably, but it is important to note that despite the downgrade, we are still rated higher than the countries who lend us money (S&P rates China's government bonds AA-, Japan AA-, and Russia BBB).

Also, in the current panicky reaction to the downgrade, we must not forget that the USA's worldwide credibility, and the US Dollar's value as the worldwide reserve currency, remains strong. In short, the USD is no Russian Ruble.

The American consumer has been forced to be frugal, watch their income vs expenses, and manage their debt very carefully for some time. Now it is time for Washington to do the same.

Time to be frugal. In fact, always Be Frugal.
Heh. This is just cheeky enough to be enjoyable. No, it's not an airplane flown by a single mom who called her best friend before and was like 'Am I crazy for doing this?' and then went ahead and did it anyway, but it's a little craven to follow up on the sheer, pure enjoyment of that with something so explicitly tied to a commercial enterprise, and thus, kinda funny. Well played, Mr. Lal. You scoundrel.
fkamer@observer.com | @weareyourfek