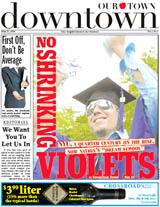 As has been rumored for weeks, Manhattan Media is shutting down the New York Press and reviving Our Town Downtown, starting September 1. The weekly publication–a magazine/community newspaper hybrid, according to the press release–will focus on news, politics, real estate and the arts in lower Manhattan. A 20,000 copy run will be circulated below 14th Street.
The New York Press will live on in name, sort of. The arts section of Our Town Downtown will be called New York Press, and nypress.com will be expanded in the fall to aggregate news and content from Manhattan Media's ten titles and other local news sources.
Marissa Maier, previously reported to be Jerry Portwood's replacement at the top of New York Press, will serve as managing editor for Our Town Downtown and Josh Rogers, formerly of Downtown Express, will supervise the re-launch and execution. It will be published by Gerry Gavin, who publishes the other five Manhattan Media weekly papers, with help from a few New York Press sales people.
"Downtown has changed, it's more ripe for a community paper than an alternative paper," Mr. Allon said. (The same demographic shift led to the original launch of Our Town Downtown in 2006. It merged with the New York Press when Manhattan Media bought it in 2007, making this a reverse-merger.)
Our Town Downtown plans to address its new audience with a new focus on real estate and with a special issue commemorate the 10th anniversary of 9/11, a portion of the advertising and sponsor revenue from which will be donated to two 9/11 charities.
"It'll compete with the Voice for hipsters, Downtown Express for community activists, and New York magazine for intelligentsia who care about real estate and their home values," Mr. Allon said.