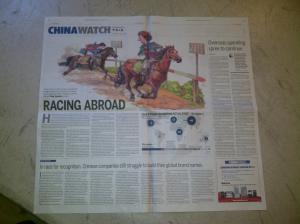 In the center of today's front section, the New York Times published a full page spread from China Daily, the state-owned English-language newspaper of China, called "China Watch." It is marked as an advertisement (the gray blur in upper right and left corners),  but otherwise resembles a newspaper layout.
It even has an ad-within-the-ad says that China Daily is launching a US weekly September 2.
Much of China Daily earnestly supports the policies of the People's Republic of China, but does so with a slyly subversive syntax that intrigues press critics (or at least James Fallows). Occasionally it runs stories Chinese-language papers won't touch, like one in 2009 on like torture and bullying in pre-trial detention centers, according to the New York Times.
The "China Watch"headlines:
"Racing Abroad: While China remains a major recipient of foreign investment, its firms are making an increasing number of big acquisitions abroad."

"Overseas spending spree to continue."

"In race for recognition, Chinese companies still struggle to build their global brand names." (Balance.)
China Daily and Russian state-owned paper Rossiyskaya Gazeta published similar content-as-advertisement in the Washington Post in December.