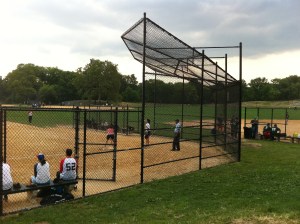 Although they had a rocky start to the season (and a broken nose), the team's stats are now giving Tina Brown reason to celebrate the merger (recently christened again by the recent redirect of Newsweek's site to the belly of the Beast). Before The Daily Beast and Newsweek merged, they were the two worst teams in the Media Softball League. Now, they have a decent shot at the finals.
Earlier this week, NTDB beat WNYC's broadcasters 4-2. Although thunder and dark rain clouds threatened to break the intense humidity, the rain held off and Tina's Terrors were able to continue their winning streak.
Last week, they bested Forbes 15-6, prompting New York Media Softball League Commissioner Steve Bloom to ask: "Is this the team in last place getting all the home runs?"
Newsweek/ The Daily Beast got three home runs, a triple and a double.
Captain Randall Lane was pitching, which spectators (mostly: The Observer) speculated may have been partially to thank for the team's turn-around.
After a Forbes writer ran into Mr. Lane, the run was thrown out by the umpire, prompting a Forbes player to say "That's the most stupid thing I've ever heard."
"There was a collision at plate, and now the run doesn't count," Forbes investment writer Chris Barth succinctly explained.
Newsweek/ The Daily Beast had one ringer with noticeably nice skin who we can bet was wearing sunscreen. Randall Lane's dermatologist helped the team win, but offered his services to Forbes as well. "I'm always open to a cancer screening – for either team," said the doctor.
ksmoke@observer.com