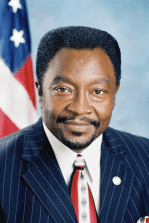 Assemblyman Nick Perry told The Politicker this afternoon that he is considering making a run for Brooklyn borough president in 2013.
"I am giving it very serious consideration," Perry said.
Perry is the deputy majority leader of the Assembly, but has been one of the quieter members of the chamber. He made some noise earlier this year  when he voted in favor of same-sex marriage, after voting against it three times.
Asked to make his case for why he was the right man for the job, Perry said,
A lot of experience and years of commitment to public service and a leadership that can only come from the experience of having served and been at the table to have seen the development in Brooklyn and the state. Being able to put things in a proper context, especially considering that the fact that the office of the borough president was significantly reduced in its direct responsibilities. So there is a need for someone with understanding and insight to make full use of that office.  A steady hand and someone who can get along with the diverse community that Brooklyn is and the ability to deal at the table with each and every group, respectfully understanding the way we all fit into this mosaic and work together to continue to build Brooklyn. Enticing those who can come in and help with economic needs, our housing needs and also the social needs of our borough.
Right now, the names most often floated for the 2013 borough presidency include Carlo Scissura, the top aide to current BP Marty Markowitz, and City Council Finance Chairman Dominic Recchia, although he may run for comptroller if John Liu decides to run for mayor.
Kevin Parker has also indicated he may run for the seat, especially if neither State Senator Eric Adams nor Charles Barron–both of whom are said to be interested–take the plunge.
Perry said that he expects a number of candidates in the race, and that his base in the Caribbean American community would propel him over the top. He said he expects to make a decision after he runs for re-election to his Assembly seat.
Asked what his holding him back, Perry said his wife.
"I would be willing to take the plunge as soon as I can convince my wife that it would be good for me to do so," he said. "She is a little resistant right now because she would like to have more of me. She is looking forward to me retiring sooner rather than later."