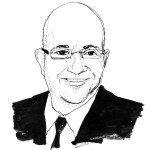 Since departing Massey Knakal as one of its principals earlier this year, Shimon Shkury has been president of Ariel Property Advisors, where he has aggressively focused on Upper Manhattan properties. Mr. Shkury, 40, spoke to The Observer about the neighborhood's umpteenth renaissance, an uptick in development sales and multifamily financing.
The Observer: You're doing an enormous number of residential and mixed-use deals in Harlem. What's drawing you to that particular neighborhood?
Mr. Shkury: In general, we've been doing a lot of work in our backyard, which is Upper Manhattan and the Bronx, in the multifamily arena mostly, but development as well. We've seen some uptick in activity in the past year, clearly in 2010 and the first half of this year.
One of the things we did see is that activity for development sites has increased somewhat, and pricing as well, mostly for the small-to-midsize development sites. In the apartment building arena, the demand has increased. Transaction volume has stayed somewhat the same throughout this year; but we feel that the bidding activity has come up, and that could be a leading indicator of an increase in value by the end of the year—but by all means we haven't seen that yet.
But there's definitely a very strong demand for properties up there compared to 2009. We've definitely seen that there's an increase for demand up in Harlem.
With Harlem, it seems like the neighborhood experiences a so-called renaissance every five years. Will that excitement die down? What's with the ebb and flow?
One of the things that happened in the past few years that we've seen is that the volume of transactions has been the highest compared to other parts of the city throughout the downturn. So there were more transactions in that area compared to other parts of the city or in Brooklyn, for example.
We've also seen that prices have declined the most between 2007 and 2008 to 2009 and 2010—and, if anything, we feel that prices are going to go back up.
From a development perspective, I think that most of the units that have been built there are being absorbed or have been absorbed, so there has been a lot less distress in that arena compared to other areas in the city. I think the reason it's always up-and-coming is because there has been a boom in the market between 2004 and 2007, say, and there have also been two rezonings that took place in the area, one on Third Avenue and one on Frederick Douglass.
But what we've seen in the decline is that, yes, there has been a decline; but there hasn't been a decline in the amount of people who still want to buy properties in the area. I think once we complete this economic cycle we'll see another improvement in that area because a lot of people have purchased residences below 125th Street, mostly.
It's surprising to hear you say you're involved with development projects, which are still rare throughout the city. Can you describe the nature of those developments?
We're in contract to sell a few development sites. One of them is actually closer to Columbia Presbyterian on 167th Street; we're in contract to sell that property to a developer. We're in contract to sell another property on St. Nicholas on 135th Street; that's a mixed-use property. We did have a bidding war on that, and the reason we had so much demand is because of the location, which allows for both commercial and residential; this is a smaller, 25-foot property. We're in contract to sell three specific projects in lower East Harlem: one at 75 East 110th Street; another, 1642 Madison Avenue; and another at 166 East 100th Street. All of those together are sold to two different buyers; they were sold by one seller. Those are projects that have some affordable component to them.
These are some of the projects we're working on right now and are in contract. The buyers are developers, and so what we can anticipate—assuming these close, and there's no reason for them not to—we can anticipate some construction starts later this year or in the first quarter of next year.
You're primarily known for your multifamily properties, but you also deal in office and mixed-use assets. Give me an idea of what you're doing in those arenas.
It's very rare. Most of our product is in the multifamily arena. Right now, for example, we're marketing several packages in Upper Manhattan, the Bronx and a few in Brooklyn. We have 371 units in the South Bronx; we have 100 units on 116th Street; we have 129 units on 135th Street. So these are the types of properties we sell.
Do you have plans to immerse yourself in more commercial office properties later?
We do commercial uptown. I think that the multifamily market has been fascinating to us because we find that the buyers for the multifamily market … But the answer is yes, we will eventually do more commercial, but right now the multifamily is our focus, and it's what we're good at. We understand that market a lot better than we understand any other market, and that's another reason why we've focused on that.
Where are you seeing the financing coming from these days?
For the multifamily asset class, it's coming from balance-sheet lenders and from community banks. We've seen that consistently, even throughout the downturn, our balance sheet lenders are interested in financing residential income-producing properties, and the interest rates today are pretty low.
For construction, we haven't seen much construction lending yet. The people who are coming in and building today have to come in with the majority of the equity. If they do get some loans, the loan-to-values are relatively low, so we haven't seen an opening in that arena.
But balance sheet lenders are lending with relatively nice loan-to-values for multifamily.
You left Massey Knakal earlier this year. Why did you decide to leave when you did?
It was a great place for us—for my team and I—at the time, and we just outgrew the platform. We just felt that our opportunities were to grow outside of that platform, and that's why we made our decision. Most of us here at Ariel Property Advisors have worked together for years and felt compelled to build a platform of our own.
jsederstrom@observer.com