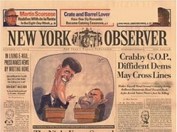 Beginning August 24, The New York Observer will be printed in a mini-broadsheet format, Observer Media Group president Christopher Barnes announced today.
The mini-broadsheet is a shorter, narrower version of the traditional broadsheet, the format of The Wall Street Journal. The Observer switched to the tabloid from its original broadsheet in 2007.
"We're keeping the classic Observer design elements but moving to a format that has a bit more of a premium feel," said editor in chief Elizabeth Spiers.
Printing will move from Expedi Printing, in Brooklyn, to Advance Publications, Inc., in Staten Island. Advance Publications is the parent company of Condé Nast.
The newspaper will be divided into two sections; the second will be focused on fine arts. There will be a full page ad unit on the back cover of the second section and blue chip ads will run in 1/6 page units on pages 2 and 3.
It will still be salmon.
Note: An earlier version of this post said that The Observer would be a "Berliner," a format technically smaller than the "mini-broadsheet," which is not just a term we made up to make this announcement more literal and less jargon-y, and, in fact, what we will be. The Observer regrets the error.