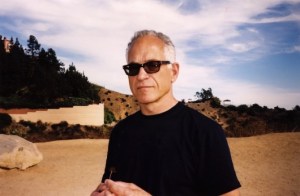 In 1965, the artist Haim Steinbach, then 21, took a hiatus from his studies at Brooklyn's Pratt Institute and went to Paris for a year. One day, walking through the city, he saw something strange.
"There was a big window, and there was art—well, it didn't look like art, but there were these paintings, of a washing machine and other products," Mr. Steinbach, now 67, told The Observer. "I was interested in Surrealism and the Cubists. An illustration of a washing machine? That's bullshit."
Mr. Steinbach had, as it turned out, happened upon the gallery of Ileana Sonnabend, the ex-wife of eminent New York dealer Leo Castelli, and was looking at work by Andy Warhol and Roy Lichtenstein. First he was angry. Then he was transfixed. "It presented the obvious," he said, "and yet it wasn't obvious at all."
The same could be said of Mr. Steinbach's audacious work, which often comprises nothing more than found objects—lava lamps, dog chew toys, basketball sneakers, mop buckets, Froot Loops boxes, rocks, plastic busts of Spider-Man, coffee mugs—sitting on triangular shelves or in boxes.
"It's about how objects can talk to each other," Mr. Steinbach explained. "How one can make something happen that's bigger than the things sitting next to each other." At their best, his arrangements ooze feeling. They can look sinister or comforting, disorienting or familiar. His pieces may be the perfect symbols of a society rife with rampant consumerism. But they may also achieve more than simple critique, teasing uncanny qualities out of quotidian objects.
And his career tells a story well-suited to our times: one of big dreams stymied, at least temporarily, by a major recession.
Mr. Steinbach was sitting in the living room of his Greenpoint studio, about a block from the East River, when we spoke last week. He was wearing a short-sleeve shirt, blue shorts, angular tortoise-shell glasses and black slip-on shoes, and he looked relaxed. Work was almost complete on the pieces for his show at Tanya Bonakdar Gallery, which opens Sept. 8. It is his first show there since joining the gallery last year, and his first show in New York since 2007.
"I was being pursued pretty aggressively by some people," Mr. Steinbach said quickly, with a faint Israeli accent. (His parents fled Nazi Germany for the Land of Israel, where he was born, and then left for the U.S. when he was 13.) "Tanya came and we did a studio visit," he said. "She understood my work. She has watched it for a long time."
For the past 25 years, Mr. Steinbach has shown in New York with—perhaps aptly—the Sonnabend Gallery, which opened on the Upper East Side in 1970 and is now representing him with Bonakdar. "Knock, knock, Ileana Sonnabend wants to come in my studio," Mr. Steinbach said, recalling the day in March 1986, when the well-respected gallerist, who died in 2007, paid a visit to his Greenpoint space. "She bought a piece right off the wall."