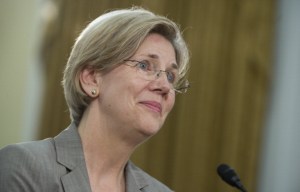 Senator Kirsten Gillibrand sounds like she would be happy to have Elizabeth Warren — who officially formed an exploratory committee today — as a colleague in the upper chamber.
"Elizabeth Warren is an extraordinary example of someone who has gotten off the sidelines to protect America's middle class working families," Gillibrand told me through a spokesman. "She would be an outstanding and much needed voice in the U.S. Senate."
In the weeks before she was officially passed over as the head of the new Consumer Financial Protection Bureau, in the face of Republican opposition in the Senate, Warren was spotted meeting with Chuck Schumer — who helped engineer big Senate victories in 2006 and 2008 — leading to speculation that Warren might be interested in challenging Scott Brown in Massachusetts.
Schumer was mum when asked about their conversations last month, but today Warren made it official, forming the committee and launching a bare bones website where people can give money or sign up for her mailing list. She's currently traveling the state on a "listening tour."
Gillibrand has been working to recruit more women in public life, launching an effort called "Off The Sidelines" through her re-election committee (note the reference in her Warren quote), and serving as an early and outspoken supporter of Kathy Hochul in a western New York House race a few weeks ago.
As it stands, Gillibrand is one of only 17 women in the Senate. Brown defeated a woman in his last Senate race, when he shocked the political establishment and beat Martha Coakley to win Ted Kennedy's old seat.