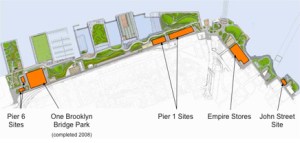 Something seemed to be missing from the deal to reduce the number of condos at Brooklyn Bridge Park. The Observer distinctly remembered there being three development sites in the original plan, and only two were discussed in yesterday's announcement. We almost made the mistake of reporting that one had been out-and-out banished from the project, but no.
There was plenty of detail on the changes to the John Street site, next to the Manhattan Bridge, which has been reduced by 30 feet, to 14 stories and 40,000 square feet; and to the Atlantic Avenue site, where the project will shrink and even disappear if enough money can be made through a sale of development rights on buildings currently owned by the Jehovah's Witnesses. But no mention was made of another development site, located at Pier 1.
As BBP spokeswoman Ellen Ryan reminded The Observer in an email, "The Pier 1 sites were not subject to the 2010 MOU." That would be the memorandum of understanding signed last year, when the city took control of Brooklyn Bridge Park from the state. So that 100-foot hotel and neighboring condos are still very much in the works—and very soon! "We expect to release a Request for Proposals on the Pier 1 sites shortly," Ms. Ryan wrote.
BroBos, ready your hackles.
mchaban@observer.com  ::  Follow on Twitter @tacitelli