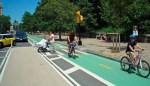 We unveiled Jean Nouvel's new MoMA tower plans.
Houston-based Hines cornered Bryant Park.
Governor Cuomo hung a U-turn on congestion pricing.
Christine Quinn and Scott Stringer (and a bunch of other pols) wrote the Chelsea Hotel's tenants. Meanwhile, we had news on Joseph Chetrit's loan for the big buy and his junior partner in the deal.
A supermajority of New Yorkers now support bike lanes.
The Rockaways, apparently, have been craving gentrification.
Rachel Uchitel went to contract on her place at 77 Park and turned a tidy sum.
We launched our campaign to be C.E.O. of the M.T.A.
Bike lane advocates had high hopes for Caswell Holloway.
Harry Gross has very big hotel plans on Broadway.
W editor Stefano Tonchi sold on West 12th Street.
Chris Ward shared the ground zero spotlight.
We recommended Justin Davidson as an architecture critic.
Dora the Explorer co-creator Eric Weiner sold his Ariel condo.
The East Village stretched to 20th Street and Avenue C.
American Idol's producer signed a deal in Trinity's 435 Hudson.
We saw what is fermenting with Harlem's first brewery since Prohibition: not a whole lot.
Suggestions were offered for where to reconstruct the Twin Towers.
Big Pharma and bike lanes–we found a connection.
And we trained it out to Childhood, Brooklyn.
tacitelli@observer.com   ::   Follow on Twitter @tacitelli