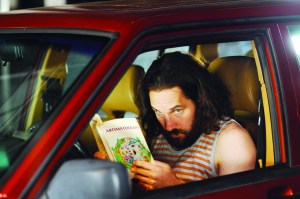 Ever since he broke out in the 1995 Jane Austen-goes-to-the-Valley romp Clueless, earning teen idol status for the somewhat questionable act of kissing his underage onscreen step-sister, Paul Rudd has carved out a niche for himself in Hollywood as the go-to hapless everyman. Most of his roles fall into two categories: the hapless, disarming romantic lead (I Love You, Man, How Do You Know), and the hapless, hammy sidekick (Anchorman, The 40-Year-Old Virgin, Wet Hot American Summer). But in Our Idiot Brother, a warm and witty comedy from brother-sister team Jesse and Evgenia Peretz, Mr. Rudd has found a perfect role that showcases his considerable charm and comic talent without robbing him of his hap.
This is not to say that Ned, the titular "idiot brother," isn't occasionally very unlucky. A laid-back biodynamic farmer fond of Crocs and Fair Isle sweaters, Ned finds himself in jail after naïvely selling pot to a uniformed police officer, only to return home a few months later to find that his girlfriend (Kathryn Hahn, sporting a head full of dreadlocks and an air of delightful, deluded self-righteousness) has taken a new lover/farmhand and wants him gone. Robbed of his paycheck, his dignity and his beloved golden retriever, Willie Nelson, Ned moves back in with his mother (Shirley Knight), but soon prevails upon his three Manhattanite sisters to put him up while he figures out his next step. One by one, he unwittingly ruins their lives with his granola-crunchy goodwill.
The oldest sister, Liz (Emily Mortimer), is a mousy, insecure, stay-at-home mom married to pompous documentary filmmaker Dylan (Steve Coogan, in a role that seems to be a send-up of first-time screenwriter—and real life documentarian—David Schisgall). Dylan reluctantly agrees to give Ned a low-paying production assistant job in exchange for free childcare, but neither works out well. To Liz and Dylan's horror, Ned allows their son, River, to watch The Pink Panther after bedtime and teaches him mixed martial arts after noticing how badly River wants to join a karate class instead of the all-girls modern dance class his parents have enrolled him in. And at work, Ned walks in on Dylan in flagrante with his prima ballerina subject (ever the innocent, Ned buys Dylan's excuse that nakedness encourages uninhibited interviews).
When Liz and Dylan send him packing, Ned takes up residence on the couch of middle sister Miranda (Elizabeth Banks, playing a variation of her ruthlessly ambitious, utterly narcissistic 30 Rock character), a neurotic Vanity Fair staffer—just like co-writer Evgenia Peretz!—on the verge of her big break: a feature interview with an heiress fresh out of a scandalous relationship that's been the toast of the tabloids. But Miranda doesn't have the grace or guts to ask tough questions, coming away with a puff piece about the socialite's pet charity. It's only the gregarious Ned who's able to unwittingly coax the real story out of the buttoned-up, P.R.-wary subject, and Miranda wastes no time in attempting to exploit her brother's knowledge for professional gain. But Ned's good intentions get in the way of his sister's agenda—in addition to sabotaging her article, he meddles in Miranda's personal life, trying to make sparks fly with her next-door neighbor and best friend, Jeremy (Adam Scott)—and soon he's pounding the pavement once again.
The final, youngest sister, Natalie (Zooey Deschanel), is a struggling stand-up comedian in a loving lesbian relationship with a woman named Cindy (Rashida Jones, forced for some reason by the costume designer to dress like Peewee Herman) who maintains a dangerous flirtation with a male artist friend (Hugh Dancy). When Natalie makes an impetuous mistake with life-altering ramifications, Ned is there to support her—until he accidentally spills the beans to Cindy. Now all three sisters aren't speaking to him, he still misses Willie Nelson, and he's back in jail thanks to an ill-advised heart-to-heart with his parole office (turns out you're not supposed to tell them when you get high with the kid across the street).
With his Jesus beard, earnest eco-friendliness and childlike naïveté, Ned is unquestionably a stereotype (think The Big Lebowski's The Dude merged with Tom Hanks in Big), and in the hands of any other actor, his hippie-dippy, laissez-faire follies might become unbearable after the first 30 minutes. But Mr. Rudd imbues Ned with an easy, charming sweetness and unpatronizing wisdom that make him seem simply guileless, not stupid. Indeed, the greatest flaw of Our Idiot Brother is in making Ned too saintly—despite the title, it's clearly the sisters who are the morons. Petty, vapid and criminally self-absorbed, they blame Ned for being the only person to identify the problems keeping them from being happy … until they realize, in a neat, somewhat lazy wrap-up that qualifies, in Oprah-speak, as an "aha moment," that by ruining their lives, Ned actually has fixed them. Oh, well. It is to the credit of the filmmakers that they manage to recoup and give the movie an ending that's as winning and winsome as its star.
Our Idiot Brother may not be perfect, but, Crocs and all, Paul Rudd's performance is idiot-proof.
ulamarche@observer.com
Running time 90 minutes
Written by Evgenia Peretz and David Schisgall
Directed by Jesse Peretz
Starring Paul Rudd, Zooey Deschanel, Elizabeth Banks, Emily Mortimer
3/4