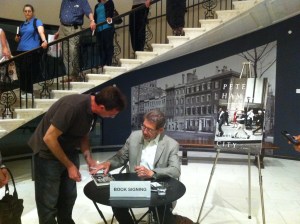 Beloved newspaperman – from back when the term held significance – and novelist Pete Hamill spoke about his new book Tabloid City, the future of journalism (it will survive) and the good old days last night at The Museum of the City of New York.
"This was my attempt to sum up what it meant to be a newspaperman in this city," Mr. Hamill told the crowded room of mostly middle-to-late aged fans and the occasional young reporter. The audience hung on every word as Mr. Hamill, who speaks in the gruff, measured voice that is reminiscent of black-and-white movies, talked about the days when New York was a city of many competing dailies and midtown had more competing bars for the reporters after close.
After reading sections from the novel (which Mr. Hamill said is difficult to do because "you miss how everything hangs together") he opened the discussion up to questions on "anything you want to ask about the novel or anything else – except the debt ceiling."
Unsurprisingly, the first question was on the state of newspapers.
"Newspapers are not going to go away in the next 18 months.They are going to be here sharing with the Internet as the Internet rises and professionalizes," he said. "I am not a big fan of aggregators and stuff like that. I think that's all bullshit. Journalism is not a hobby, it's a profession."
He also cited The Daily Beast, which he gave credit to for having editors who read and writers who get paid.
"I think part of it will be generational. I watch the subway crowd very carefully. There are a couple of old guys without walkers reading the Times and The Wall Street Journal and some people reading the free papers," Mr. Hamill told the audience. "And then there are people thumbing away. I want to think that they are reading something good but I can never get a position where there is no glare on the screen. Somehow I don't think they are reading Madame Bovary."
Mr. Hamill, who teaches at NYU, said that students make him hopeful for the future.
"Meeting these kids at NYU made me far more optimistic than I was before. The sense I get from them is that they are not like the swine in The Social Network who will betray every living human being for money. They are in it to lead meaningful lives," Mr. Hamill told us afterwards.
The book-signing portion of the event took place in the grand lobby of the museum. Fans clutching books to their chests waited on the marble staircase to get a witty saying inscribed.
Before we left, Mr. Hamill gave us some advice.
"I didn't want to be Hemingway or A.J. Liebling. I wanted to be the best Pete Hamill that ever lived," said Mr. Hamill. "To keep trying to improve yourself and learn more. To be modest about the small triumphs you have and to use your craft to reach out to people from whom you can learn stuff – whether it's writers or musicians or artists. You can't learn much from politicians. I've lost all faith in their ability because it's all image and horseshit."
Also: "Never go into a bar that needs a bouncer," he said.
ksmoke@observer.com