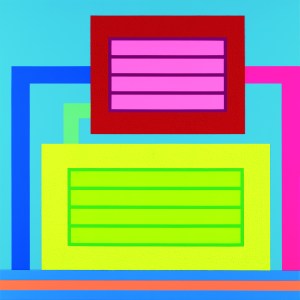 Geometry is destiny, at least in the work of Peter Halley, whose Day-Glo prisons, cells and conduits have been familiar icons since the mid-'80s. Mr. Halley has proved to be reliably consistent, from his choice of acid-hued paints to his use of Roll-A-Tex, a gritty product that lends his work an architectural edge. At first glance, the artist's airy studio at 526 West 26th Street, filled with rows of colorful paint containers surrounded by canvases in various stages (and dominated by a huge classical cast of Poseidon that Mr. Halley acquired from the Athens Museum), could be a day-care center for child prodigies. But Mr. Halley, 57, who recently stepped down as director of Graduate Studies in Painting at Yale, has an enviably stable midlife career. A Halley installation is included in this year's Venice Biennale, and he has his first show at Galerie Thomas Modern in Munich this September: eleven canvases and one huge digital wall installation—a multipaneled grid of exploding cells.
Mr. Halley has been playing with permutations of the same modular building blocks—three basic geometric components—ever since he, Jeff Koons, Ashley Bickerton and Meyer Vaisman became overnight sensations with what was more or less their very own art movement, Neo Geo, which was as instantly reviled as it was celebrated. The so-called Hot Four, as they were dubbed by New York Magazine, officially made it onto the map in 1986. Three of them had already been showing at International With Monument, on East Seventh Street, which was co-owned by Elizabeth Koury, Ealan Wingate and Mr. Vaisman. But behind the scenes, the ambitious Mr. Vaisman had engineered a deal with Ileana Sonnabend, the legendary gallerist and ex-wife of Leo Castelli. The much-hyped move to Sonnabend's Soho gallery, which entailed many machinations—even by art world standards of expert manipulation—was widely perceived as Machiavellian. Still, critics, who saw Neo Geo as a welcome antidote to that other neo, Neo-Expressionism, raved about the actual show when it opened that October, praising its "cool calculation."
If Jeff Koons was the cute one of the fab four, the one even then with a showman's flair for self-promotion, Mr. Halley (still bespectacled but now gray-haired) was the smart one, whose cerebral paintings weren't just geometrical abstracts but philosophically linked to such deconstructionists as Jean Baudrillard and Michel Foucault. Mr. Halley had already made somewhat of a name for himself for his critical writing, even before his first show at International With Monument in 1985. As Mr. Vaisman said at the time, "A lot of people hated Peter's work in the beginning. Now they love it and claim they've always loved it. Some people feel that they have to love it or else they're going to be seen as fools."
As Mr. Halley himself puts it, "I always wanted to be a public intellectual. I was interested in Foucalt and Baudrillard and everything they had to say about the social experience of space in our society. And that in turn seemed to reflect Warhol's ideas, who was, I guess, my most important intellectual mentor." (A black-and-white Warhol portrait of Mr. Halley, done in 1986, hangs in the studio bathroom.)
Mr. Halley, the son of a prominent attorney and politician, Rudolph Halley, who died when he was 3, was born and bred in New York. His father investigated organized crime for the U.S. Senate and ran unsuccessfully for mayor. There were also art connections: Mr. Halley's great uncle, Aaron Wyn, published William Burroughs. And Allen Ginsberg's epic poem "Howl" is dedicated to Carl Solomon, Mr. Halley's father's first cousin. Mr. Halley attended Phillips Academy before going to Yale. But after being rejected by the art program, he studied art history. He got his master's at the University of New Orleans, returning to New York in 1980, just when artists like Julian Schnabel and David Salle were exploding onto the scene.
"When I got here I found that there were people like Cindy Sherman, Richard Prince and Barbara Kruger, mostly connected with the Pictures Generation, doing really interesting things," the artist recalls. "And on the other hand there was Neo-Expressionism, which, with all respect to the individual artists, seemed like the idea of the art world gone mad. It reminded me of Sleeper, when Woody Allen wakes up in the future and Rod McKuen is a great poet, and all these things that seemed like the aspects of art that I consider negative had become dominant."
In stark contrast, Mr. Halley's work—brazenly conceptual—was like a cartoon schematic of an urban environment or cross-section of a basic building. Thanks to its linear elements, which reference everything from Abu Ghraib to computer circuitry, it has remained visually timeless. Says Scott Nussbaum of Sotheby's, "The prison is always going to be a relevant image, as is the cell, particularly in our digital age. And the concept that we are connected electronically is now even more true than it was in '80s, when the imagery first emerged. These types of images reverberate continuously and powerfully to anybody who is paying attention to world events, whether it's the stock market or riots in London."
Says the photographer Timothy Greenfield-Sanders, a longtime friend who was also a contributor to Mr. Halley's art magazine Index (published from 1996 to 2005, and loosely modeled on Warhol's Interview) "Peter was way ahead of his time. I think he was way ahead of the digital age. Today we take it so for granted that we have a cell phone. Everything is digital—everything is bits—and Peter was aware of that in the '80s, when we were still getting used to fax machines."
While they can look futuristic and almost antihumanistic, the artist says that his paintings are, in fact, autobiographical. Mr. Halley stops in front of a large, bifurcated canvas, depicting an orange prison against a deep blue background above another prison, light blue, bordered in yellow against a red background, with two blue conduits feeding into its top. "These paintings began in terms of the prison being a kind of self-portraiture or self-representation, and they were gender-based," he says, pointing to the trade-mark bars. "I thought of guys as sort of in prison, if you think of guys being uptight. So it was sort of the imprisonment of even myself as an individual, as I related to myself as a middle-class male. You know the beatnik term for an uptight person is a square? So here's a square and a prison and also a feeling of isolation."
Even the painting's rough surface has a personal meaning. "I started using the Roll-A-Tex to give the square or the prison an architectural feature. Now Roll-A-Tex is a strange thing. I've been using it since 1981, and I always shy a little bit from autobiography, but even when I was much younger, I didn't shave every day, and I usually have a little stubble, so this stubbly surface like a man's beard sort of fed into that gender identification."
Although he quickly found his artistic voice, Mr. Halley's first days in New York were solitary. "I didn't know many people. It was a very lonely time and it was a very big city, and I began making prison paintings, because I felt very isolated. But the thing that happened afterwards is that I felt maybe I wasn't so isolated. I began to think about the prisons or cells being connected, or myself being connected to others in terms of technology, telephones and cable TV and the grid in the city, and that's how I got interested in this spatial system of cells and prisons connected to other cells and prisons, in a sort of human-made technological environment. And I feel I sort of lucked into something—like Dan Flavin with the fluorescent lights—because over the next 30 years that ended up being about the extension of the communications environment and the web."
Although many people would label Mr. Halley's work as abstract, he sees his work as not only represetnational but also comical. "I think my paintings are funny," he says. "They are mostly based on a kind of overly naïve or simplistic schematic theme, almost like in Krazy Kat. And I find that whole thing quite slapstick. And I think sometimes my color is funny. A large part of the root of my creativity is humor. I'll be working on a painting and I'll think, this would be funny. If I put this green here, what a joke."
Soon after the Neo Geo show, Mr. Halley joined the Sonnabend gallery. "I eventually left because the art market was in really bad shape and I had two small children and I felt the gallery's philosophy was they were content to let people come to them." But in 1992, when Mr. Halley jumped to the Gagosian Gallery, where Ealan Wingate was then ensconced, Sonnabend lost no time suing Larry Gagosian, the Gagosian Gallery and Mr. Halley for breach of contract. (The lawsuit was eventually dropped.) "For me it was a nightmare," Mr. Halley says, shaking his head. After that, not only were Ms. Sonnabend and Mr. Halley not on speaking terms, "even worse, I think I was the only person in the art world that Leo Castelli wouldn't talk to."
Mr. Halley did one show at Gagosian, where he remained until 1994. "But basically I broke it off because he [Larry] wasn't able to live up to the terms of the agreement." Still, he left the gallery on good terms. Says Mr. Halley of Mr. Gagosian, "He has great taste and a great eye and beautiful spaces and subsequently moved in the direction of becoming an unbelievably effective impresario. And in that sense he has created a unique model for a gallery. And I guess just as Larry found out he was an impresario, I found out I was happiest working with a pretty big constellation of smaller galleries each of which had their own signal collectors." (Mr. Halley has shown with Mary Boone in New York since 2002; he also has half-a-dozen galleries in Europe and one in Moscow, in addition to Galerie Thomas.)
Says Mr. Wingate, who until recently had a Halley hanging in his country home, "I think he is somebody who has a terrific embrace of a palette which is difficult to take, and he's not afraid of being visually abrasive, which I think is quite thrilling. His work livens up anything in a room. It's terrific to live with, and it's jokey. It's like a Rothko of our time, done after the film Brazil."
Does he ever long for the stratospheric fame of his youthful Neo Geo comrade Mr. Koons? "I don't want to be a supercelebrity—I'm not the type," the artist says emphatically. Still, he takes some credit for Mr. Koons's initial success. "Early on I had a really key role in Jeff Koons's career, because I wrote about him and then I introduced him to Meyer Vaisman. I like to remind people that I sort of half-discovered Jeff. As everybody got better known, I was really disappointed in him, because he was really claiming this sort of mantle of genius. And his ideas about self-promotion and money and the artistic persona he got for himself I thought were much closer to Neo-Expressionists than something I had hoped that this new generation would have used." But, he insists, his primary response is not envy. "I don't want people to think that's who artists are."
The soft-spoken Mr. Halley has a daughter (Isabel, 25, who with Laurie Simmons and Carroll Dunham's daughter Lena created the website Original Downtown Divas) and a son (Thomas, 21, who is studying neurobiology) with his first wife, Caroline Stewart. After a self-confessed dry spell of nearly a decade, Mr. Halley married the painter Ann Craven, whom he met at Yale, last January. As for his show at Galerie Thomas, known for its blue-chip artists, "I kind of like being the youngest artist in the gallery. I'm happy as a clam," he said.