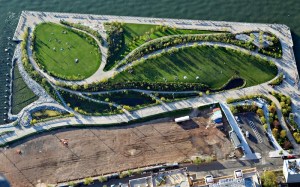 Even if the city could be headed for further construction slowdowns, developers are still readying themselves for the (eventual?) recovery. The MoMA Tower, Hudson Yards, East Coast Number 4—all are showing signs of life. And they all have something in common, as well: their developers have their sights set on the first site at Brooklyn Bridge Park.
Things were very, busy at the libertarian park two weeks ago. The city reached a new development deal with the state on what exactly can be built at Brooklyn Bridge Park to help fund its maintenance. Then, two days later, the city released an RFP seeking developers for Pier 1, the first site at the park to be redeveloped.
The RFP calls for two new buildings housing a hotel and condos, with either 170 hotel rooms and 180 condo units, 225 rooms and 150 units, or some mix thereof. If there was any notion Brooklyn is still somehow a backwater, the high-profile firms vying for these two sites should dispel that idea right about… now. According to a source present at an information session held yesterday by the city, among the developers and architects present were:
Related Companies (Hudson Yards, Time Warner Center)
Hines (MoMA Tower, Bryant Park tower)
Two Trees (Pretty much all of Dumbo, Mercedes House)
Andre Balazs (Fabulous!)
Douglaston Development (The Edge)
Rockrose (Lots of Queens West, 200 Water Street)
TF Cornerstone (Lots of Queens West, 505W37)
Starwood Capital (Westin, W hotels)
The Dermot Company (One Hanson, Battery Maritime Building)
Muss Development (Two Brooklyn Marriotts, Sky View Parc)
TEN Architectos (One York, Hotel Americano)
FXFowle (FXFowle, Northside Piers)
Rogers Marvel (Gowanus Green, State Street townhouses)
Architetonica (MiMA, Westin Times Square)
Artimus (Lots of Harlem: 5th on Park, SoHa)
What's interesting about this list is, based on past history, some obvious teams seems to be emerging. Two Trees worked with TEN on Mercedes House, and this won't be their first hospitality venture—the Walentases are building a hotel in Williamsburg with architect Morris Adjmi. Architectonica has plenty of hospitality experience, building the Westin for Starwood and Related's MiMa, home of the robotic Yotel. Dermot has worked with both Rogers Marvel and FXFowle.
The final pairings might look nothing like this, but it presents some interesting options, especially because it would mean a new level of quality on the eastern shore of the East River—with the possible exception of the New Domino, designs for most of the glassy riverside towers in Queens and Brooklyn have been so-so. And there is another point of note: Pretty much all the developers on this list have built major luxury projects on said waterfront, whether at Queens West, Hunter's Point South (Related is doing the first phase) or Williamsburg.
So no slouches here, and for good reason. According to our source, "The site is awesome."
And there may be room for more parkland, too. The Journal reported yesterday that the city was in negotiations with ConEd to buy a transformer site in Vinegar Hill, which interrupts the waterfront promenade. The Bloomberg administration envisions a near-contiguous park stretching the length of the East River,  replacing former factories with miles and miles of public space stretching from Astoria to Sunset Park.
mchaban@observer.com