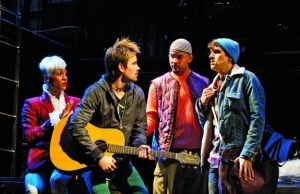 Guitars  swelled during an early preview of the new revival of Rent, and the delighted crowd squealed. Across the orchestra section, fans accustomed to using the play's soundtrack as karaoke fodder fought the urge to sing along. Many failed. The excitement was understandable. After three torturous Rent-free years, the city is once again graced by the play that made the East Village famous.
Gone is the original minimalist set, discarded for a labyrinth of fire escapes and metal grating meant to evoke the bad old days of 1991. Gone is the stunt, celebrity casting, which asked the world to imagine Scary Spice and Joey Fatone as starving bohemians. And gone is the 1,100-seat Nederlander Theatre. For the first time since its 1996 birth at the New York Theatre Workshop, Rent is off Broadway, where costs are low enough that, if producers and Rentheads have their way, its lights will never dim again.
It has taken up residence at New World Stages on 50th Street, a theatrical multiplex that has found a niche housing shows that, though no longer Broadway-viable, have enough brand recognition to keep a smaller theater full. Although technically a new production, this revival retains enough of the original creative team—including longtime director Michael Greif—to assure continuity with the original megahit. As the August 11 opening approaches, Mr. Greif and his team walk a tightrope, attempting to draw a fresh crowd without sacrificing the intensity of the show that first electrified New York a decade and a half ago.
Although Rent's 2008 Broadway demise was cataclysmic for the die-hards who sustained the play during its epic, 12-year run, for producer Jeffrey Seller it was strictly business. "There's only one reason any Broadway show closes," he said. "We reached the point where our expenses exceeded our sales." As the show wound down, "the audience kept getting younger and poorer," forcing the producers to slash ticket prices until their profit margins evaporated.
"Am I gonna blame myself, that my show only ran 12 years?" he said. "Broadway is business. We do it to make money. We don't do it to lose money. When we start losing money we close."
Besides being cozier, the play's new 499-seat digs are more affordable than a soaring Broadway house. A smaller crew, a star-free cast and the theatrical unions' lower salary demands for Off Broadway have cut the show's expenses by two-thirds. Instead of hustling to sell 6,000 tickets a week, Mr. Seller and his team will be able to get by with 3,000.
"We call it not Off Broadway, but intimate Broadway," said Beverley MacKeen, executive director of Rent's new home. She has struck a formula for profiting off of shows that conventional wisdom would consign to the dustbin. She had her first hit two years ago, when Avenue Q moved from Broadway to one of the five theaters in her former multiplex. By focusing on online ticket promotions instead of a conventional barrage of radio, print and television ads, she resuscitated a show that Broadway had pronounced dead. Avenue Q recouped its Off Broadway investment in a lightning-fast 13 weeks.
As a producer on Avenue Q, Mr. Seller knows that Ms. MacKeen's formula works. He expects reviving Rent in her theater will be "equally easy, if not easier."
"We did all the work branding it on Broadway," he said.
Mr. Seller's two productions will be joined by Million Dollar Quartet, the Tony-winning jukebox musical that finished its Broadway run in June and reopened at New World Stages last Thursday. Producer Gigi Pritzker is "thrilled to be in the same space as Rent."
"Rent is a well-known brand," she said. "The hope is that we can help each other."
But for the creative team behind the revival, Rent is much more than a brand. For those who have been with the play since its inception, like Mr. Greif and Mr. Seller, any discussion of Rent is tied up in the memories of creator Jonathan Larson, whose shocking death the night before the New York Theatre Workshop premiere lent an air of melancholy to all the ensuing success.
"It's always a mix of feelings," said James C. Nicola, artistic director of the Workshop. Before the play's original premiere, an extended Broadway run seemed like fantasy. If crowds took a shine to Mr. Larson's rock-opera adaptation of La Bohème, the plan was to move it to a larger Off Broadway theater—something like New World Stages.
"The morning after the reviews came out," said Mr. Nicola, "and we saw the apocalyptic scale of the response to it, it seemed obvious to me that we needed to be thinking bigger."
Though Mr. Nicola felt the Broadway producers were "exceptional" in keeping the show from growing stale during its long run, he's happy to see it back "in the scale of theater that we imagined for it originally." That the Workshop still takes a piece of the box office is icing for the nonprofit.
"We always had a nice return on it all during the Broadway run," he said. "It's in some ways the best kind of income that we can get, because it's the fruit of our labors."
It can be strange to remember that, although the play's audience is now heavily slanted toward teens, on first opening Rent was beloved by the most serious theatergoers in New York. Contemporary critics rhapsodized over the show's rawness, a fact that might puzzle anyone who has heard the score performed by an enthusiastic 12-year-old. But the energy of the young cast, Mr. Larson's carefree mixture of musical styles and his optimistic handling of grim subject matter—South Pacific it ain't—were stunning enough at the time to win the show a Pulitzer.
The set designer, Mark Wedland, said Rent is more "musically and lyrically complex" than people realize. "You can come with a chip on your shoulder and say, 'Entertain me if you dare!' and then you may not hear everything that's really there," he said. "But people wouldn't come back if they didn't get something new each time."
He finds the fan base "intimidating," and the muted singing from the audience "unsettling," but said the creative team had never worried about pleasing the die-hards. Those who have always loved Rent will come no matter what. Those who find it irritating will likely stay away. Success depends on those in between.