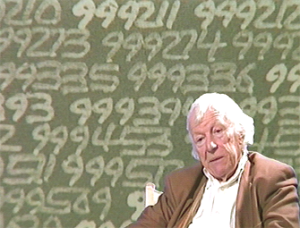 The Polish painter Roman Opalka, who painted an uninterrupted series of numbers across hundreds of canvases, over the course of more than 45 years, and became a leading figure in European Conceptual art, died on Saturday, in Italy, according to the Hurriyet Daily News. He was 79.
In 1965, Opalka embarked on his lifelong work, 1965/1 to Infinity, for which he painted white numbers in long rows across a gray background. When he ran out of space on one canvas, he picked up the series on another. "[M]y hand trembled before the hugeness of the task, this little 1, this radical commitment to the first instant of irreversible time," Opalka once recalled, describing the moment he embarked on his massive project.
Seven years after beginning the series, he passed the number one million and began taking photographic self-portraits after the completion of each of his works.
Adopting this rigorously serialized approach, Opalka aligned himself with many other artists of the time who explored making art through systems and mathematics, like the French artist Daniel Buren (who paints stripes), the Japanese-American artist On Kawara (who paints the date he makes his paintings) and the German artist Hanne Darboven (whose drawings record long streams of mathematical computations).
Opalka was born in 1931 to Polish parents and lived in Germany, the United States, Poland and France, where he eventually settled in 1977. He participated in many of the art world's most important international exhibitions, including Documenta in Kassel, Germany, in 1977; the Sao Paolo Bienal in 1987; and the Venice Biennale, in 1995 and 2003. He had one-person shows in New York at Yvon Lambert Gallery and John Weber Gallery.
"We will miss him," the Yvon Lambert Gallery, now based solely in Paris, said in a statement. The gallery emphasized that he had "bridged classical painting and conceptual art perfectly, and with absolutely no compromise."
"Opalka's work, a methodical transcription of the passing of time, is circumscribed within his own life and will end only with the artist's death," writer Marco Pierini once said, "when the last of the painted numbers will not be followed by another one and the counting will be interrupted. This will leave the work not unfinished, but perfect."
According to Polskie Radio, the first painting in Opalka's lengthy painting series is in the Art Museum in Łódź, Poland, which will also be given his final work.