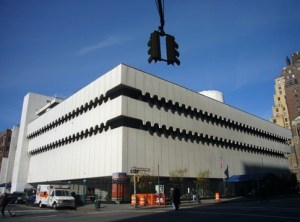 Sometimes landmark battles have happy endings.
Many a preservationist lamented the demise of the Village's O'Toole Building, the old National Maritime Union headquarters more commonly known as the Overbite Building for its unusual facade. After a three-year fight at the landmarks and city planning commissions, St. Vincent's won begrudging approval to tear down the modernist structure and replace it with a new 21-story hospital tower.
When St. Vincent's went bankrupt (the story was not a happy ending for everyone), its development partner, Rudin Management, turned to North Shore/LIJ to keep its multimillion dollar condo plan on the former hospital campus alive. Instead of building a new hospital—which never would have passed landmarks—North Shore/LIJ came up with a plan to repurpose the O'Toole Building, which won unanimous approval from the commission today.
"It's a felicitous conclusion," Commission Chair Robert Tierney said at today's hearig. "The proposal will allow the building to be restored intact and function as a health care facility and not detract from the character of the district. I enthusiastically support this application."
The plan calls for restoring the facade to its original appearance, after new tiles were added during later renovations. The plans also address one of the biggest complaints against the building, its uninviting Seventh Avenue side. This will be opened up to create a new entrance, and while it is not quite the vibrancy of a sidewalk cafe that Jane Jacobs relished, it is seen as an improvement from the hedges and glass brick that currently dominate the expanse.
Bill Rudin applauded the decision in a statement. "Today's vote is further recognition that the North Shore-LIJ Comprehensive Care Center is not only the best plan to bring health care back to the West Side, but the right one for the neighborhood," he said. "Along with our LPC-approved residential development, new open space and a public school, this plan preserves the heart and character of the West Village community."
"I want to really thank the applicants for saving this building," Commissioner Margery Perlmutter said.