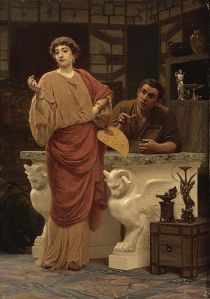 The A.B.A. Gallery, which specializes in Modern and contemporary Russian art, has fired back against a lawsuit filed by one of its clients that alleges the gallery sold fake works and overcharged for others, Business Wire reports.
Collector Olekandr Savchuk, who purchased 18 works from the Gramercy Park-area gallery in 2006 and 2007 for nearly $10 million, is suing, through a legal entity called Arthur Properties S.A., claiming that four of the paintings Mr. Savchuk purchased, including works by landscape painter Ivan Shishkin and Stefan Bakałowicz, who painted scenes of Classical Rome, are forgeries.
"The allegation that four of the paintings sold to Mr. Savchuk are not authentic is absurd," A.B.A. Gallery responded in a statement, noting that the authenticity of the works has been confirmed by outside experts. The gallery has filed a motion asking for the case to be dismissed.
To the claim that it overcharged for a seascape by Ivan Aivazovsky, which it sold for $4 million, A.B.A. counters that Mr. Saychuk may actually have "underpaid" for the work since smaller works by the artist were selling for more at the time of the sale. Furthermore, the gallery argues, there is no U.S. law that pertains to "overpricing." It writes, "Mr. Savchuk was free to accept, reject or negotiate to his satisfaction the price of each painting."
This reminds The Observer of art critic Dave Hickey's famous line about art and commerce: "Art does nothing to money but translate it," Mr. Hickey once wrote. When one buys a work of art, he argued, "You have translated your investment and your faith from one universe of value to another." It is impossible, in that sense, to overpay: the transaction creates the value.
The U.S. District Court for the Southern District of New York will be the final judge of that argument.