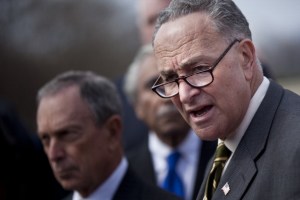 Senator Charles Schumer is casting doubt on reports that Lockerbie bomber Abdel Basset Ali al-Megrahi is on his death bed in a Libyan compound.
Schumer has long called for the extradition of al-Megrahi, after the convicted terrorists was issued a compassionate release from a Scottish prison in 2009, on the premise that he only had a few months to live. Earlier this year, Schumer  suggested extraditing al-Megrahi would be a good way for the rebels to prove their goodwill to the rest of the world — a call he reiterated last week, as rebels were just beginning to take control of Tripoli.
The transitional government has resisted that call. "We will not give any Libyan citizen to the West," NTC Justice Minister Mohammed al-Alagi told CNN in a report posted last night. An accompanying video appears to show al-Megrahi in a coma, breathing through a tube.
But Schumer has his doubts.
"This wouldn't be the first time that Libyan officials claimed al-Megrahi was on his death bed," Schumer said in a statement this afternoon. "We're going to need a lot more verification than the word of local Libyan officials. There is no justifiable basis for the rebels' decision to shield this convicted terrorist."
Update: Senator Kirsten Gillibrand, who has also called for al-Megrahi's extradition, said she's asked the State Department to verify his condition, in the hopes of holding him accountable.
"The release of Al-Megrahi was a total miscarriage of justice. If we're ever going to win the fight against international terrorism, the rule of law must hold strong," Gillibrand said in a statement. "I have asked the State Department to obtain verified information about Al-Megrahi's condition. Now that there has been a change of government in Libya, we must get all the information we can learn about the Lockerbie bombing and hold all those responsible accountable."
The CNN video: